Drake Miller (1770-1861) and Abigail Ann Howe Miller (1773-1858)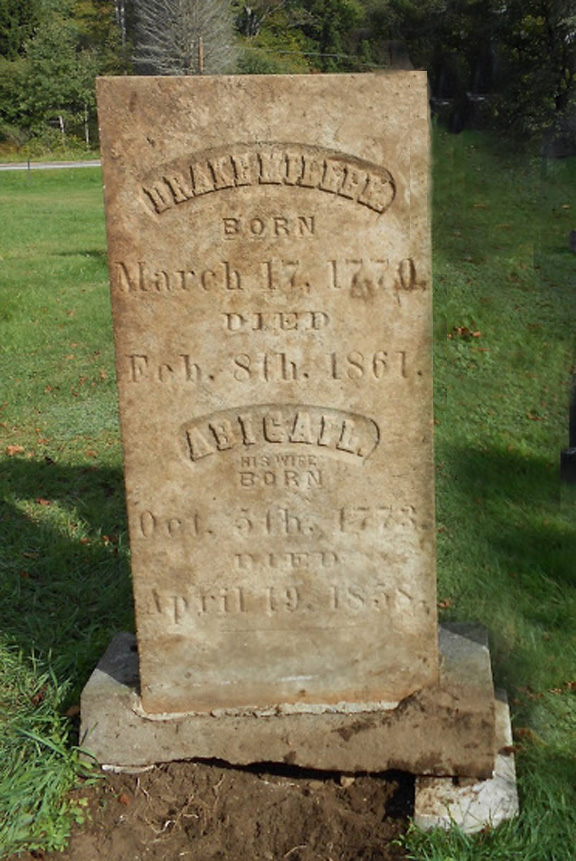 Drake Miller
Drake and Abigail Miller's eleven children.


Some sources list another daughter Abigail, with no birth/death dates, so they may have had 12 children.
Although there are conflicting reports as to where Drake was born, he was no doubt born in Tarrytown on March 17, 1770.
Drake married Abigail (possibly Abigail Howe). Their son Stephen DeMott Miller (1797-1881) was born when they were 27 and 24 years old. They then lived in Schoharie County, Sharon, NY. where their daughter Esther Miller was born in 1800.
The Census shows their son John Jay MIller (1802-1871) joined the family in Chenango County, Sherburne, NY. The towns of Sharon and Sherburne are about 49 miles apart.
The next census shows them living in Brookfield, Chenango County, NY. His house and lot had a value of $300. Drake's father, Lemuel, owned a house and lot also, valued at $150.
Son, Erastus Miller (1803-1886) was born in Brookfield.
In 1803 the Brookfield house they were living in was valued at $450. Drake paid $76 in real estate taxes.
The family then moved to Columbus, Chenango County where Lewis Drake (1806-1889) was born.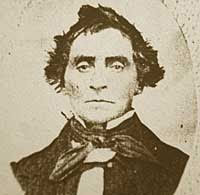 Lewis Drake Miller, son of Drake and Abigail Miller.

Hiram was born two years later (1808-1889). Daughter Ann Miller was born in 1811, and son Freeman Crandall arrived in 1813. Census' show four more children, but no dates for their births - Albert, Edward, Abigail and Polly. The family is in the Columbus census in 1805, 1820, 1830 and 1840.
Columbus, NY held its first official meeting in 1805 to elect and name officers to manage the town. Drake Miller was named "Clerk" and one of the "Overseers of Highways".
Their town officials included a Poormaster, Fence Viewer and Pound Master as well as Commissioners, Assessors and Collectors. The Poormaster was in charge of finding housing for transients or poor people and often would house people temporarily in their own homes.
---
---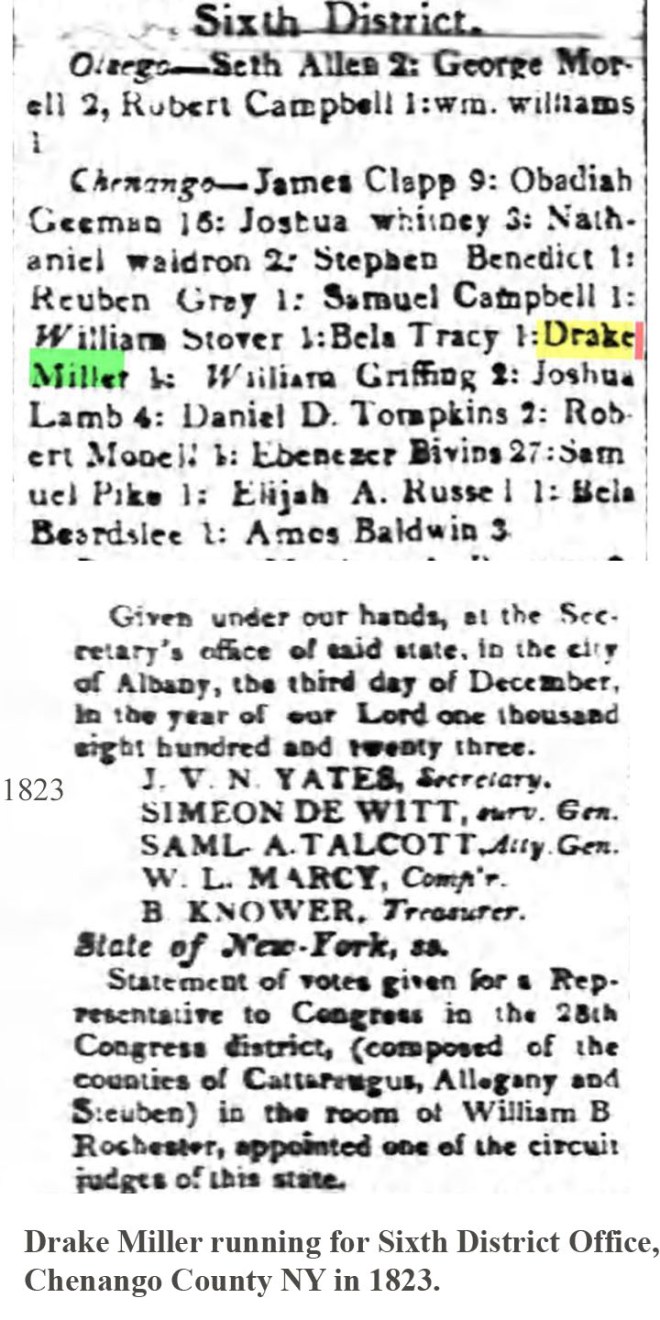 Drake's wife Abigail (1773-1858) died at the age of 84 in Otselic, NY where they had relocated three years earlier in 1855. The 1855 census shows Drake, Abigail and daughter Ann living in Ostelic.
The 1860 census, 3 years after Abigail died, lists the large Miller family by age. Drake was 90, Ann was 49. They shared one dwelling. Lewis Drake and Minerva were both 53. Lucian, 26, had married within that year to Samantha who was 18. Charles was 24, Henry 20, Eunice 18 and Silas was 14. The census states Eunice and Silas had gone to school within the year.
Lewis Drake was a farmer, his land assessed at $ 3,000 and his personal property at $ 825 in 1860. Minerva's personal property was worth $ 800. Lucien, a farmer, had land worth $ 1,200 and personal property at $ 125. Ann also had personal property assessed at $ 300.
Drake died three years later at 90, on 2-8-1861 in Columbus, NY, and was buried with Abigail in Rhode Island Cemetery, Otselic, NY.
James Miller and his son Chad Miller went to Rhode Island Cemetery in South Otselic, NY. They cleaned and repaired old family tombstones, resetting the broken ones in new cement. The pictures show them working on Drake and Abigail Miller's stone, which has weathered the elements for over 150 years! Drake is Chad's great-great-great-great-great-grandfather. He was born 248 years ago (1770), dying at age 90 in 1861. He would have been 91 the following month.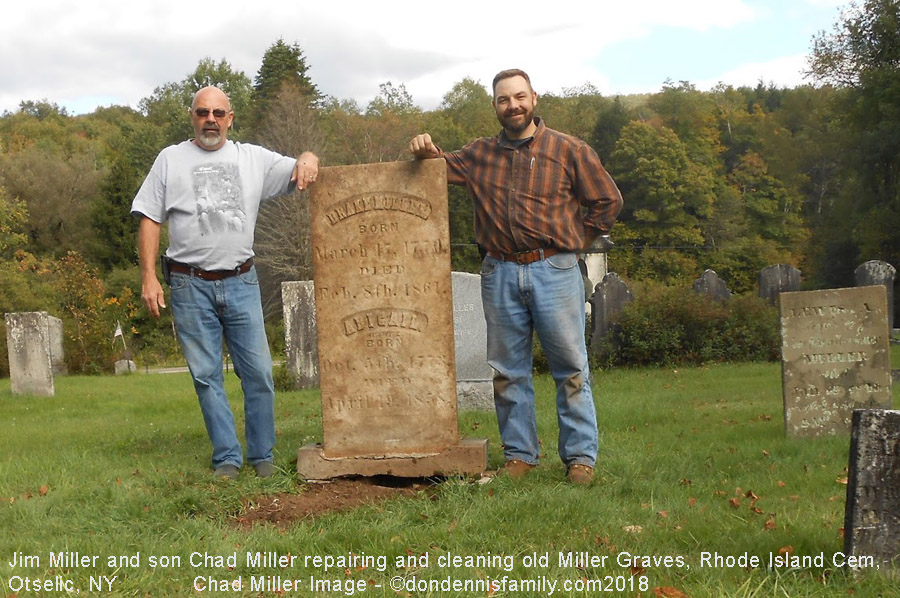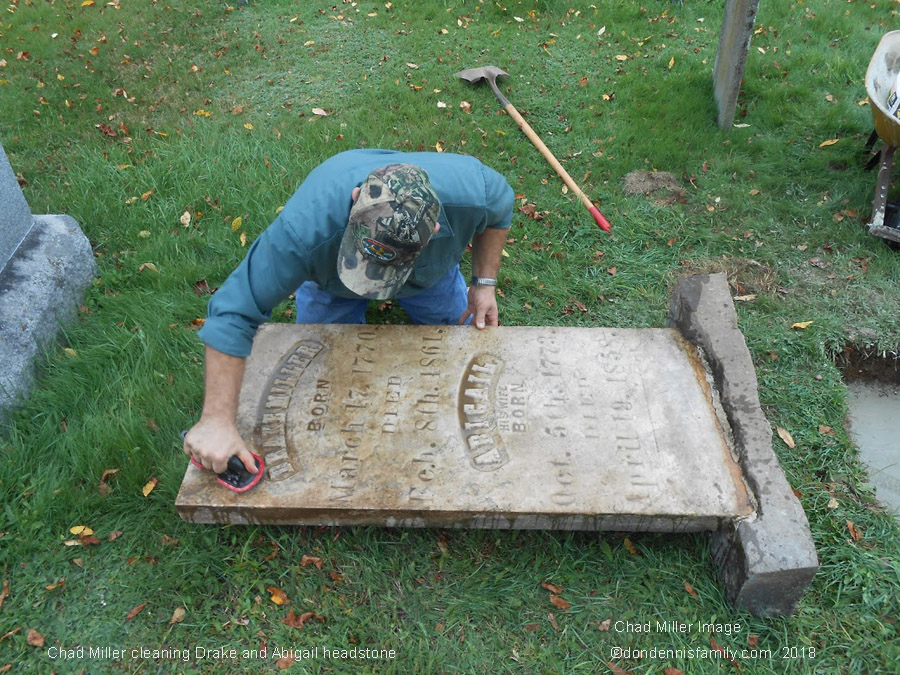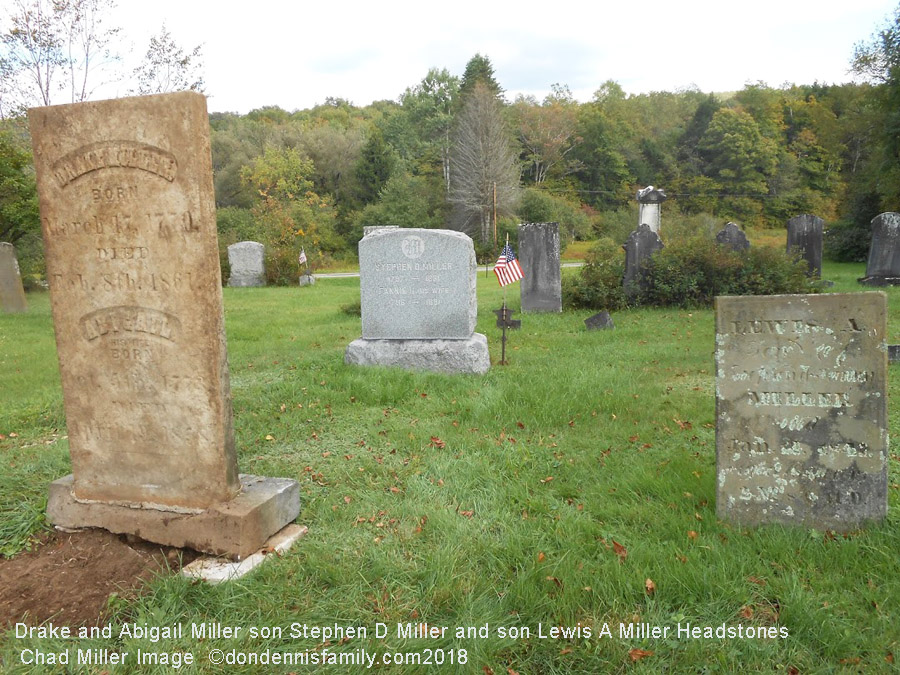 No individual, facebook page, pinterest or any other group, nor website, blog, or any other entity
has permission to post any intellectual property from dondennisfamily.com.
Email us for inquiry regarding publishing our material.




Put Website in Subject Line