1830 Letter to Minerva Clark - Three Years before she married Lewis Drake Miller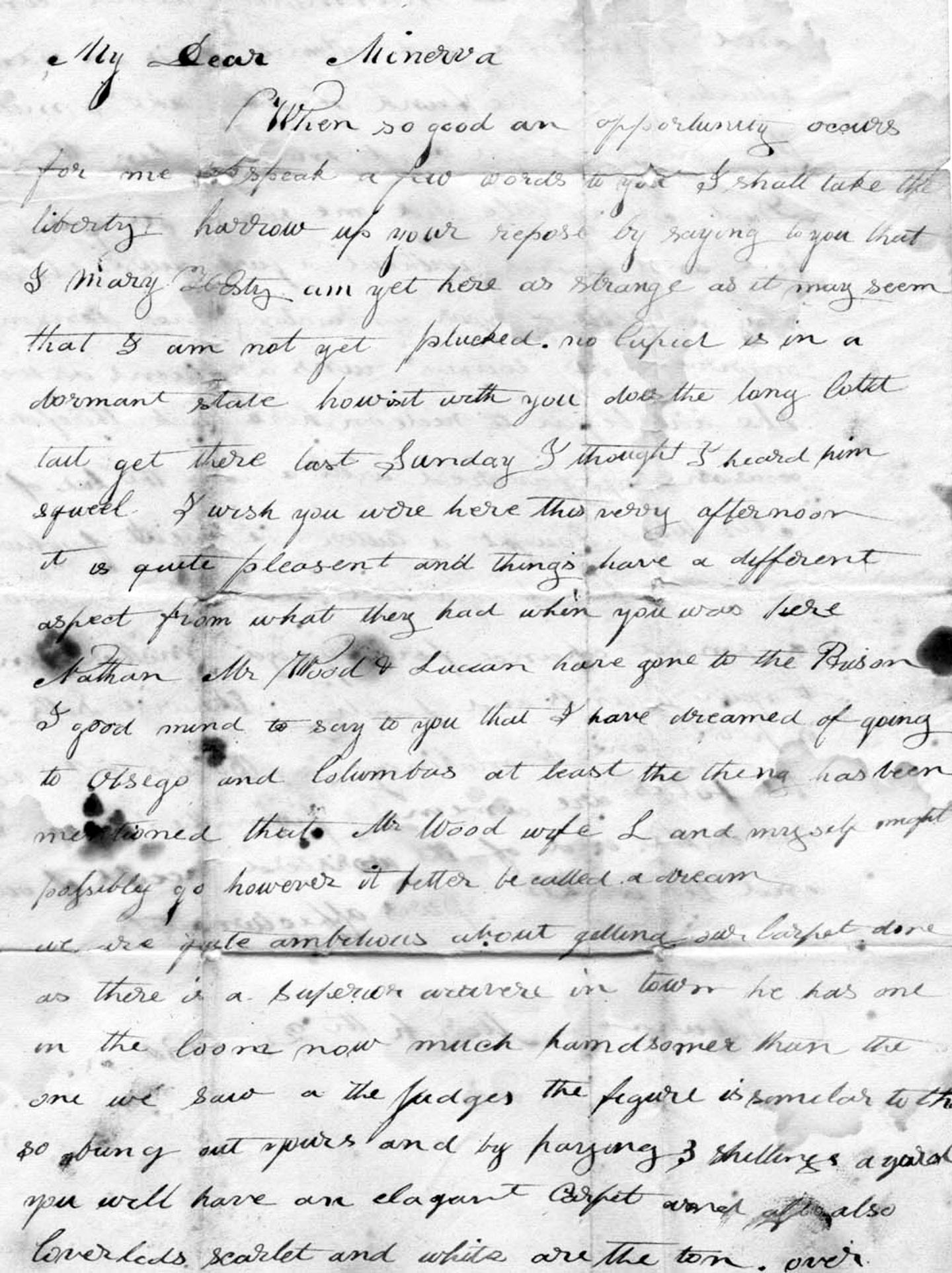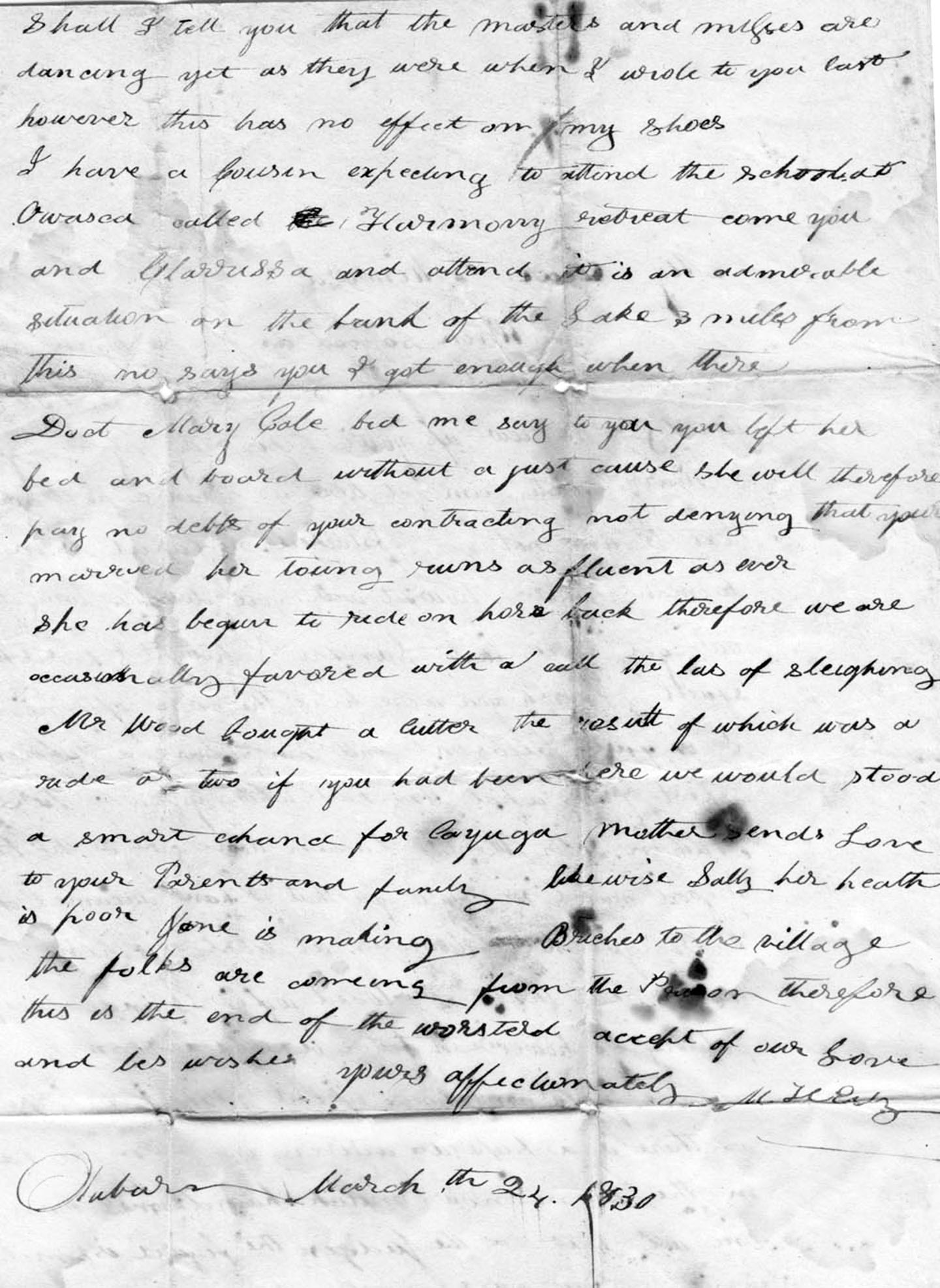 My Dear Minerva:
When so good an opportunity ocours
for me to speak a few words to you I shall take the
liberty harrow up your repose by saying to you that
I Mary ( ?? Holsty) am yet here as strange as it may seem
that I am not yet plucked. No cupid is in a
dormant state how is it with you did the long lost
tart get there last Sunday I thought I heard him
squeel. I wish you were here this very afternoon
it is quite pleasent and things have a different
aspect from what they had when you was here
Nathan Mr Wood and Lucian have gone to the prison
I good mind to say to you that I have dreamed of going
to Otsego and Columbus at least the thing has been
mentioned that Mr. Wood wife L and myself might
possibly go however it better be called a dream
we are quite ambitious about getting our carpet done
as there is a superior artivere in town he has one
on the loom now much handsomer than the
one we saw at the Judges the figure is similar to theirs
so bring out a purs and by paying 3 shillings a yard
you will have an elagant carpet and also
coverlets scarlet and white are the ton. over
Shall I tell you that the masters and misses are
dancing yet as they were when I wrote to you last
however this has no effect on my shoes
I have a cousin expecting to attend the school at
Owasea called Harmony retreat come you
and Clarrissa and attend. it is an admirable
situation on the bank of the lake three miles from
this no says you I got enough when there
Doct Mary Cole bid me say to you your left her
bed and board without a just cause she will therefore
pay no debts of your contracting not denying that you
married her toung runs as fluent as ever
She has begun to ride on hors back therefore we are
occasionally favored with a call the las of sleighing
Mr Wood bought a cutter the result of which was a
or two if you had been here we would stood
a smart chance for Cayuga Mother sends love
to your Parents and family likewise Sally her health
is poor Jane is making Briches to the village
the folks are comeing from the prison therefore
this is the end of the worsterd accept of our Love
and the bes wishes yours affectionately m (?? hesty)
Olubarn March th 24, 1830

The Clarissa mentioned was Minerva's sister, two years younger than her, born in 1809.
Her family:
Rensselaer (1802)
Minerva ... (1807)
Clarissa (1809)
Nathan (1811)
Julia (1812) ... died at 2 years old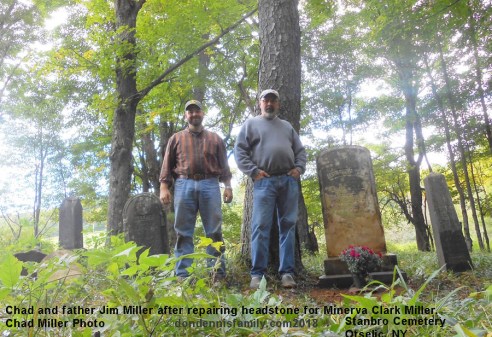 Chad and Jim Miller cleaned the family stones and repaired any that were broken.

No individual, facebook page, pinterest or any other group, nor website, blog, or any other entity
has permission to post any intellectual property from dondennisfamily.com.
Email us for inquiry regarding publishing our material.




Put Website in Subject Line