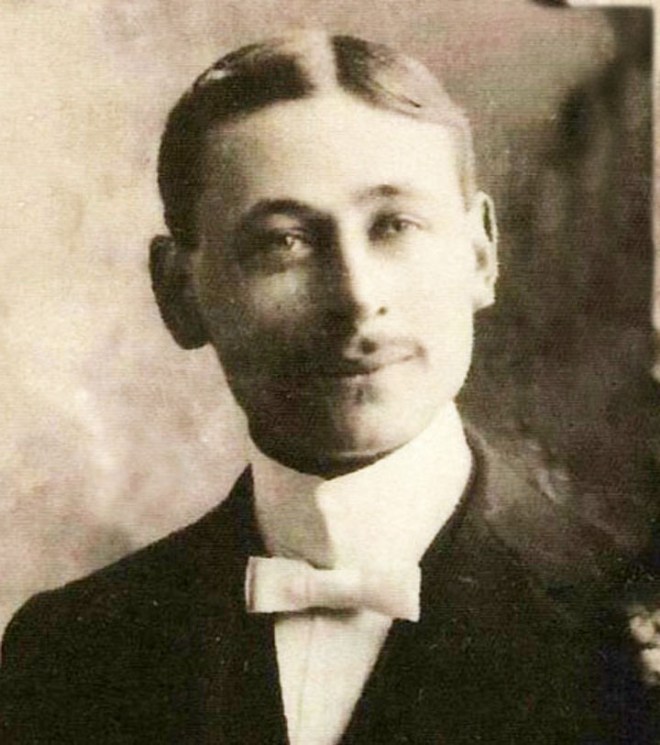 Walter Clark Miller was born to Lucien and Samantha Miller on February 26, 1879 - the family lived in Otselic, NY. His sister Inez was born in 1867 and died in 1876 at 9 years old. Brother Lewis was born three months before Inez died, in 1876.
Walter was born 23 days after their grandmother, Minerva Clark Miller passed away on February 3, 1979. Minerva, his sister, was born in 1873 and died in June of 1880 at 6 years old. Walter was 14 months old at this time.
In 1885 the family sold their holdings in New York and Walters parents, Lucien and Samantha along with sons Lewis (9 yrs old) and Walter (6 yrs old); his grandfather, Lewis Drake and his Uncle Henry all moved to Rondell, Brown County, Territory of Dakota.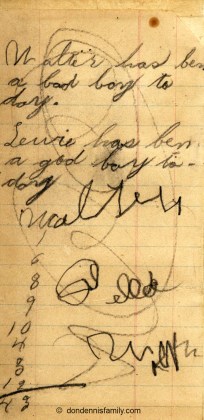 Lewis wrote that Walter had been a bad boy that day but Lewie was a good boy.
The family took one more crushing blow in 1890 when 13 year old Lewis died after a lengthy illness. Walter had lost all three siblings and was now an only child.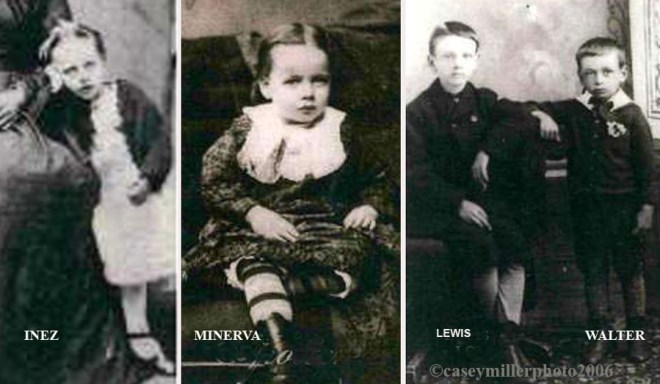 Inez - 1867-1876; Minerva - 1873-1880;
Lewis 1876-1890; Walter 1879-1961
Walter was raised learning to farm and "horse trading" with his father. Little notebooks have some of his jottings. In 1891 he wrote "Pa promised to pay me 50c on 14 of June". And, "I give Pa $15 for Fannie's colt".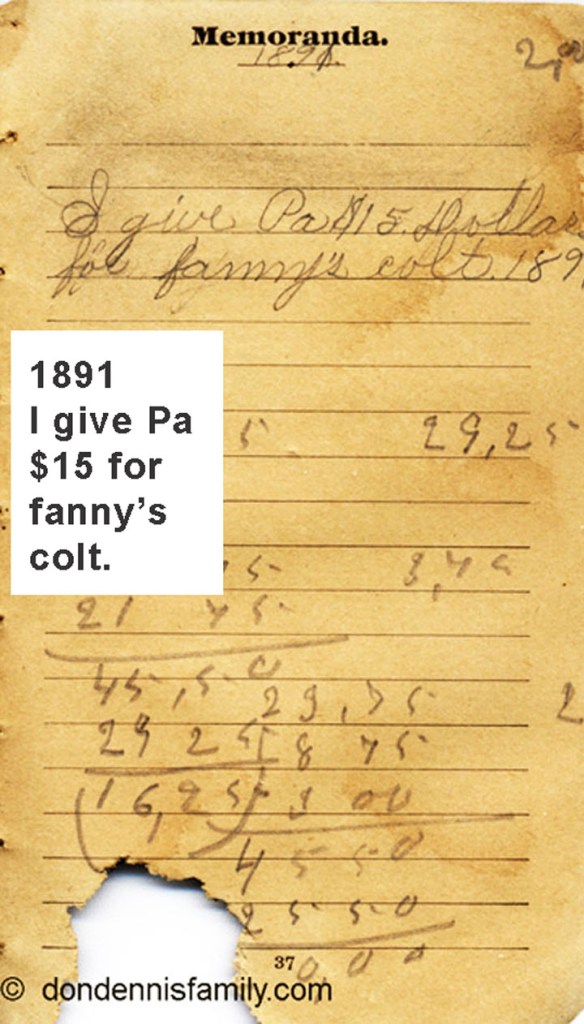 1893 School Record shows Walter at 14, was absent 8.5 days of school,
had good deportment, and was in the 8th grade. He had attended 9 months of school, 161.5 days.
Walter married Eliza Tolvstad in Redfield, SD on March 21, 1900.
He called her Gypsy.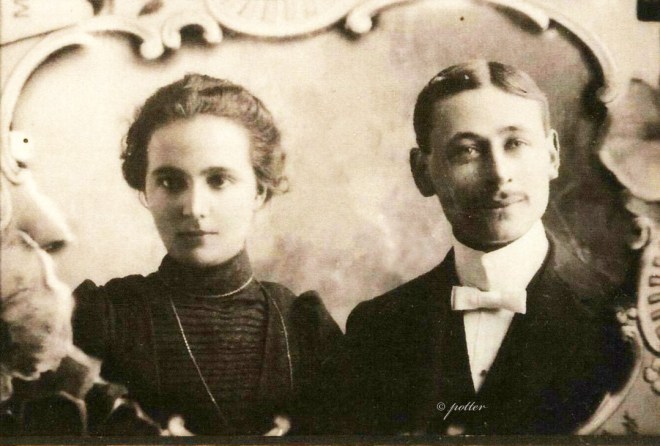 Walter and Eliza's Wedding Picture
Several letters they wrote before and after married have survived. 1899


The 1900 Brown County Dakota Census lists Lucien and Samantha, Walter's parents -
and Walter and Eliza, both 21 years old, newly married.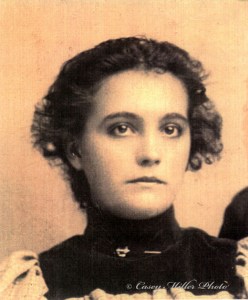 Eliza was a beautiful and well educated girl. Her parents had come from
Norway and settled in Whitehall, WI. When Eliza was 5 years old
they moved near Rondell, Brown Cty, Territory of Dakota.
They were opposites, Eliza was fun but very reserved, and Walt was a daring entrepreneur.
They would have ten children in the next 20 years, nine lived full lives and one son died
shortly after his birth in 1912.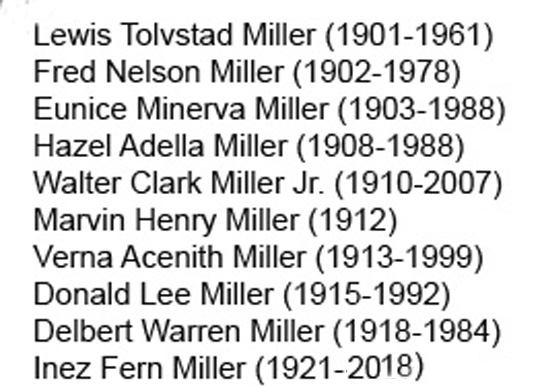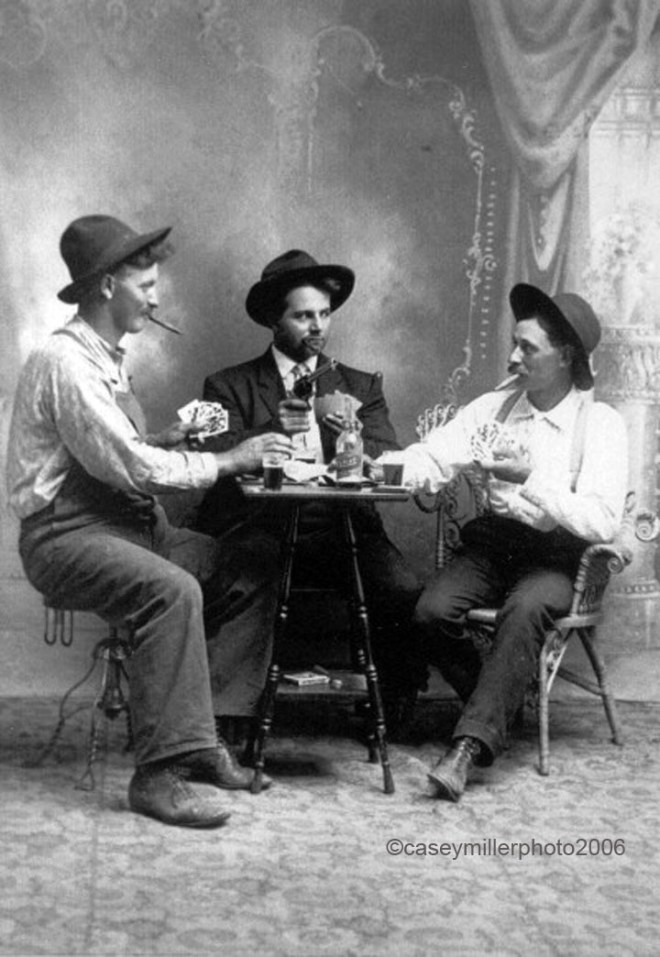 Walter on the right.
---
---
---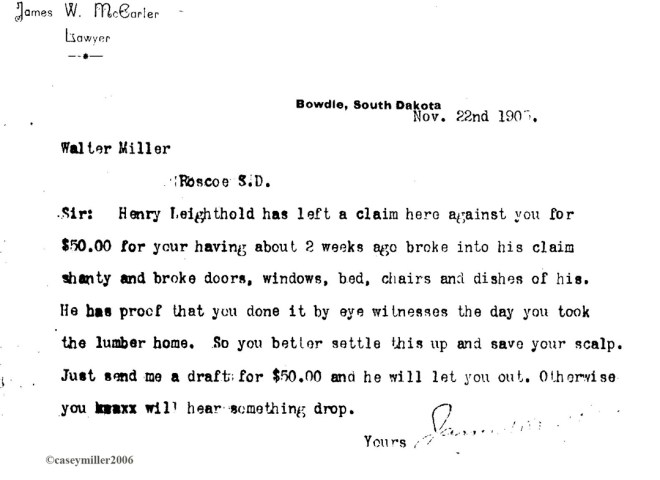 One of the more interesting pieces of paper found in Walter's files.
There has to be a good story behind this! The family had moved to the Tolstoy area.
---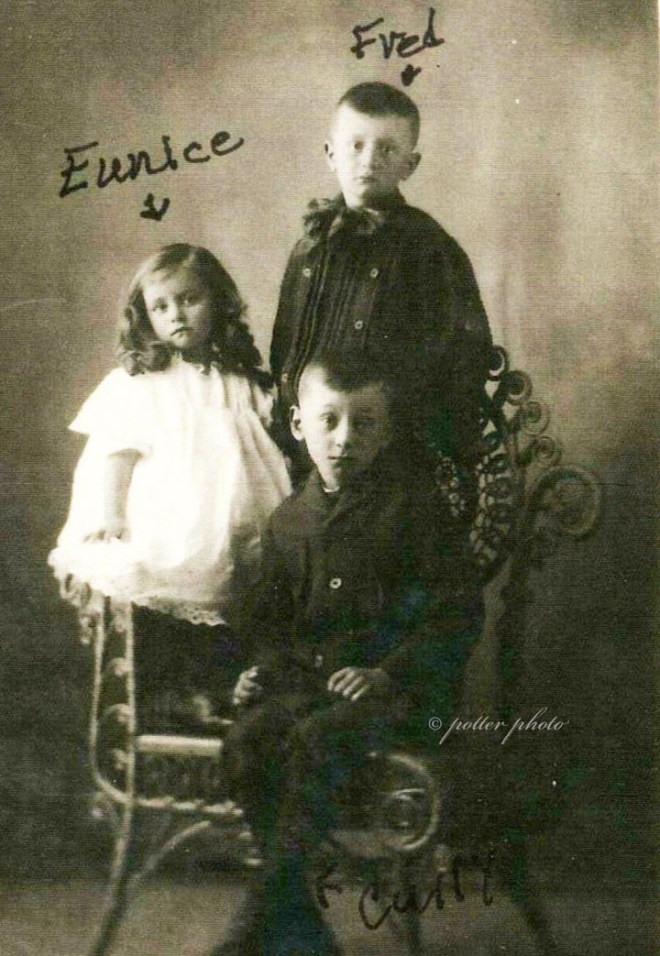 1906, Eunice, Fred and Lewis, who was called Cully.
(One has to visualize those two boys getting a SHAPE UP talk right before the camera clicked!
Those are a couple of sad faces!).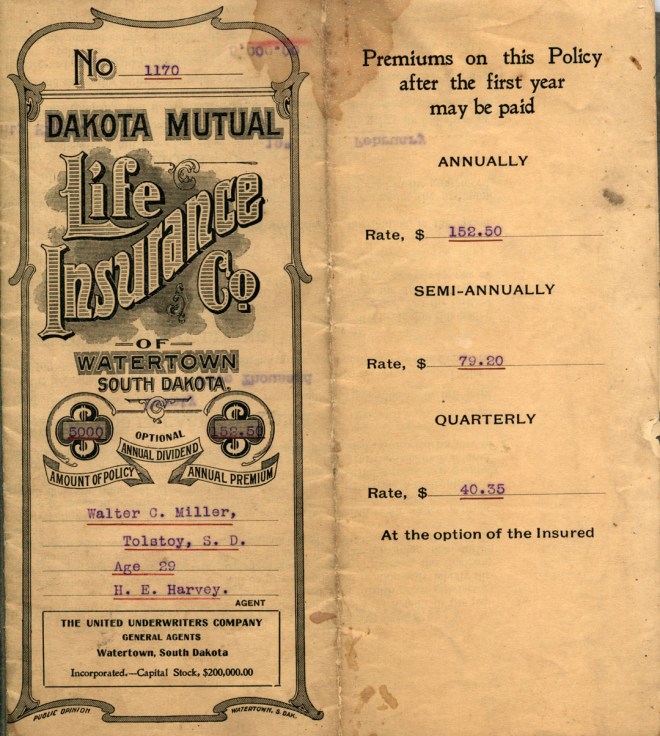 Now a man with a family, Walter purchased $5,000 worth of life insurance in 1908.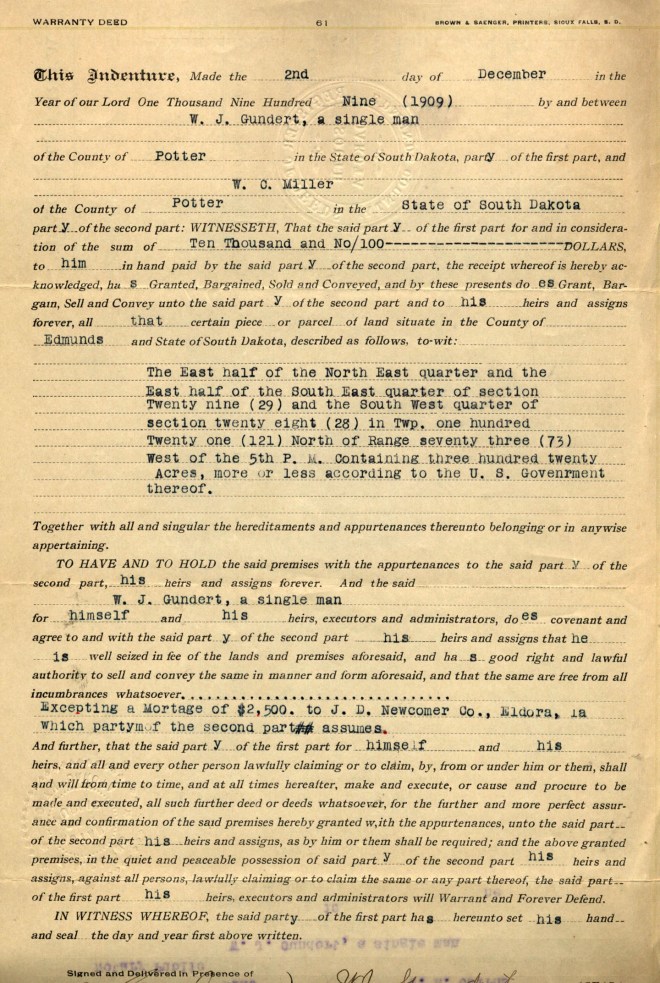 In 1909, they purchased a parcel of land on which to farm.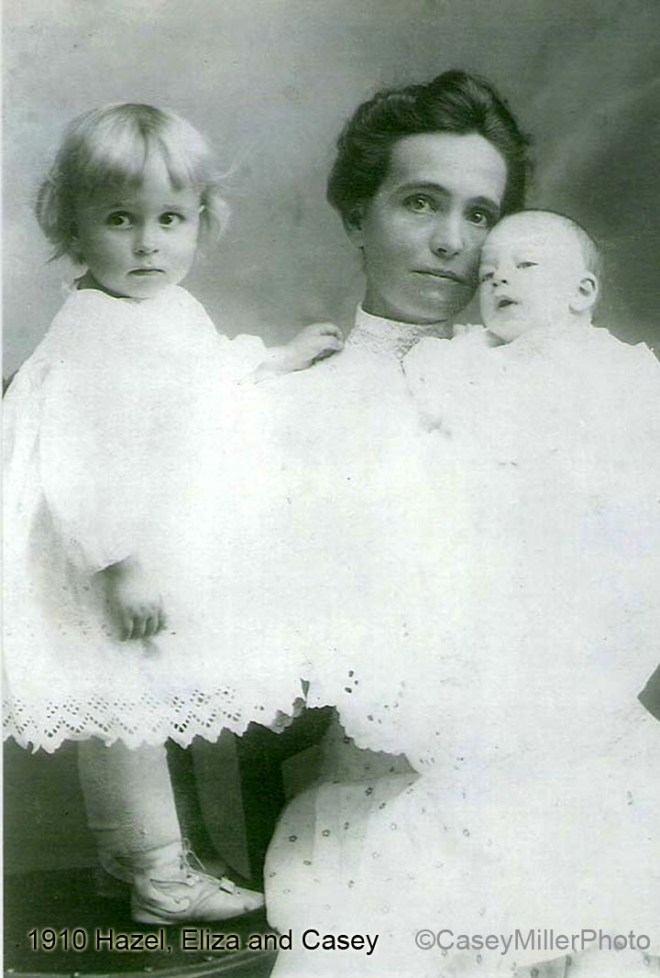 1910 Hazel, Eliza and baby Walter C Jr, called Casey.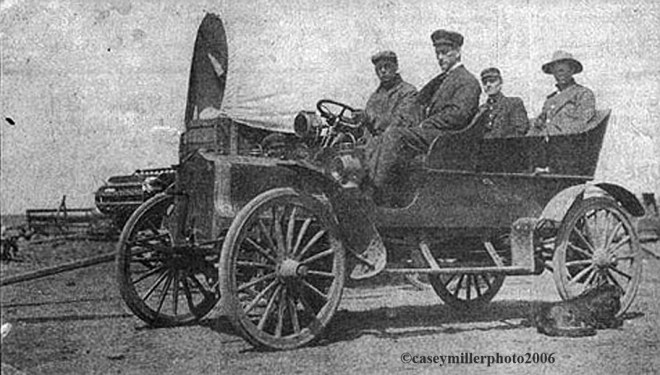 The big car Walt purchased in 1910. It was so heavy it would get stuck on the unimproved country roads and they would have to ask a farmer to pull it out with horses. The car had rubber wheels and was chain driven. The top picture shows Walt at the wheel with their hired man, Jake Schneider beside him.
The family settled in Tolstoy, SD, living on 2nd Street. Walt had different businesses, a cigar store, a pool hall and liquor store, a livery stable and Tolstoy Auto Company. They farmed with the older boys working hard also, to keep up the large family.
Below are receipts from purchasing cigars and liquor for his business.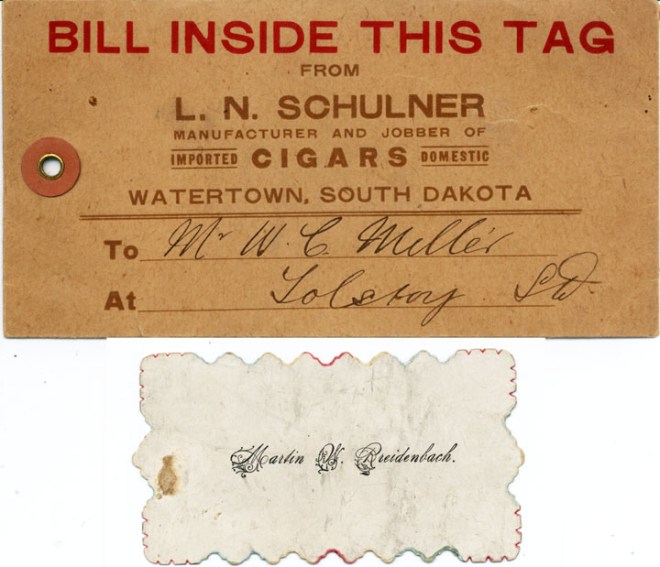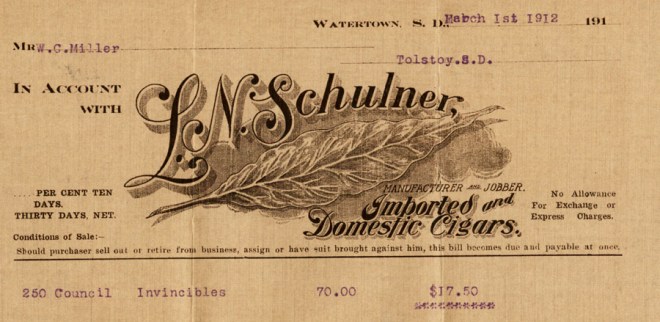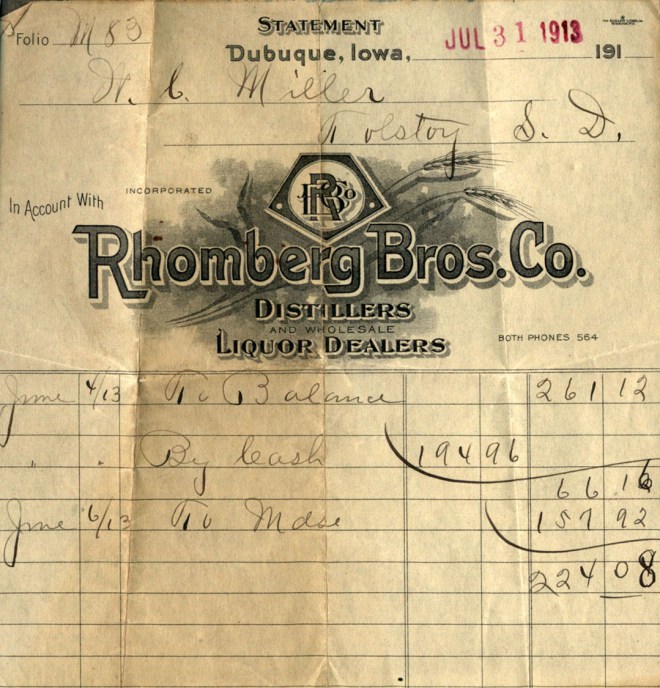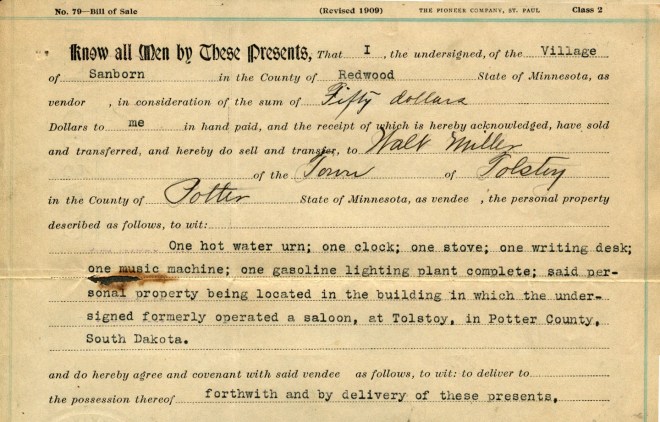 Walter went to Minnesota to purchase property for his tavern. He wrote a postcard to Eliza from there.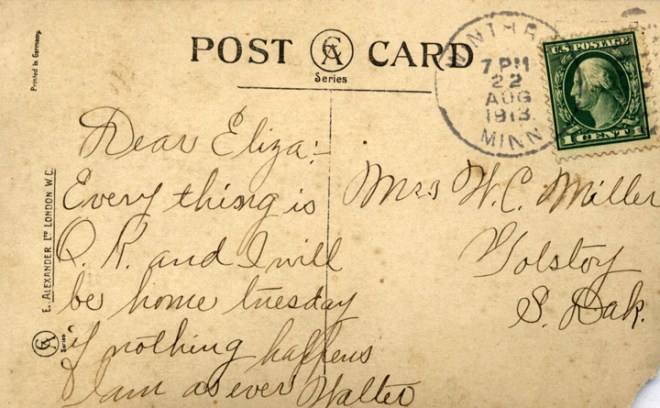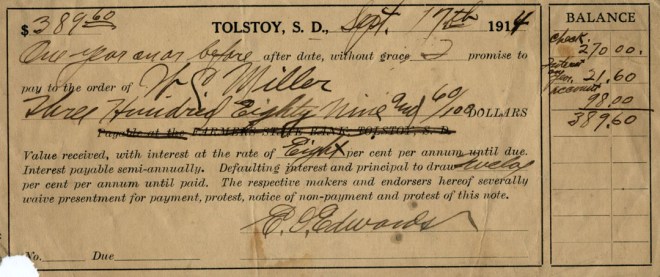 He loaned E. O. Edwards $389.60 at 8%, unless he defaulted, at which time the interest was raised to 12%.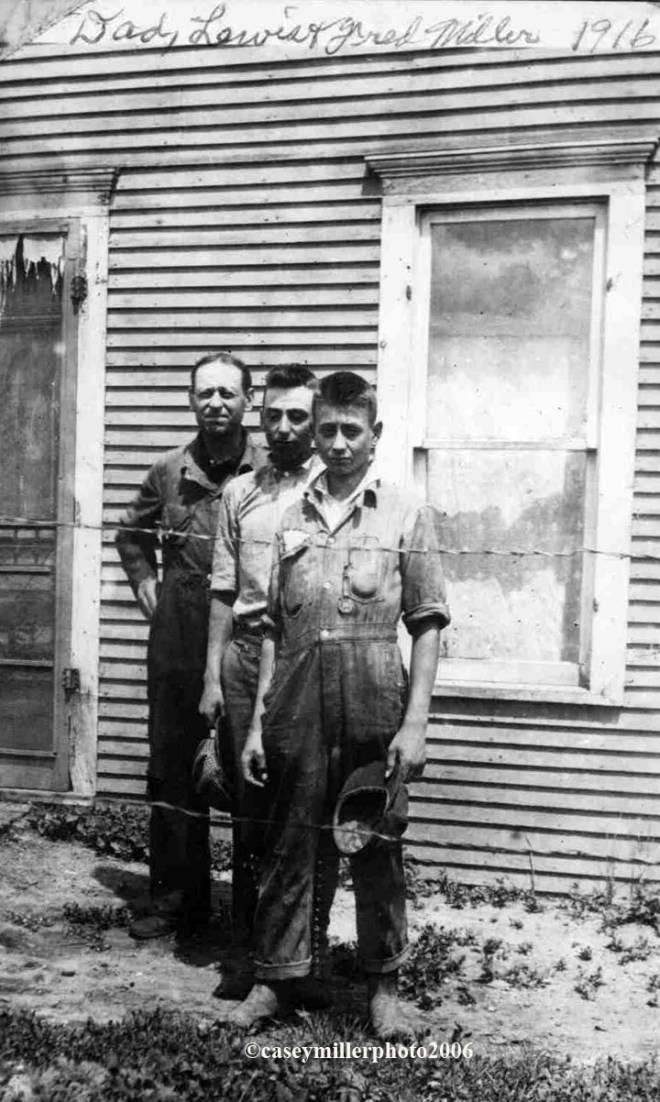 Walter, Lewis (Cully) and Fred 1916.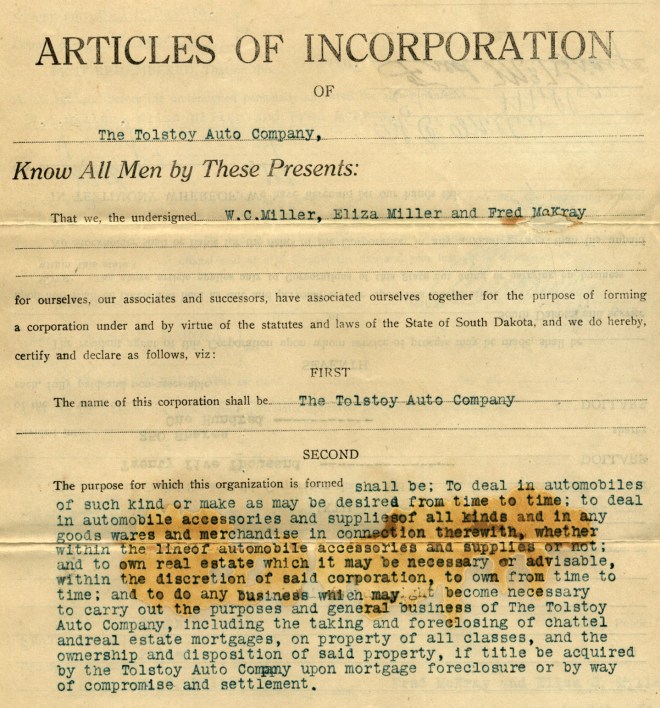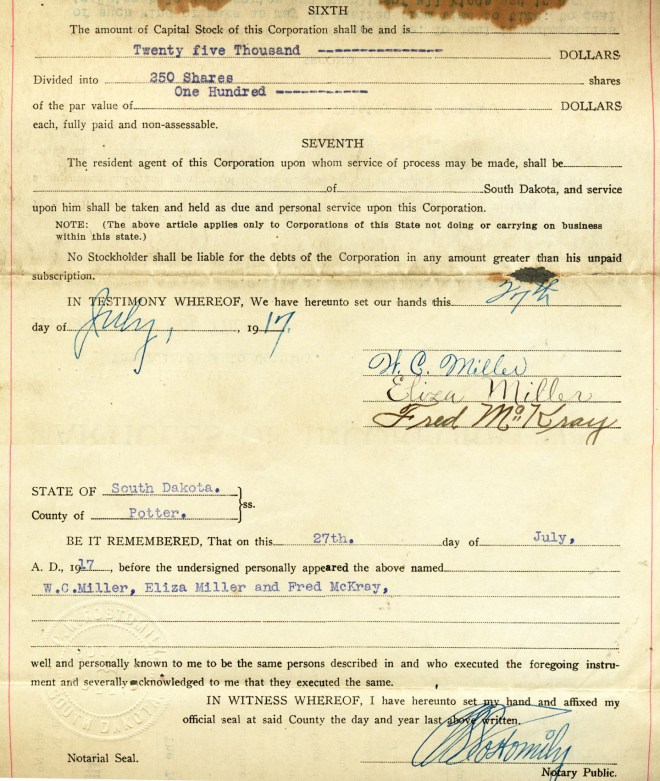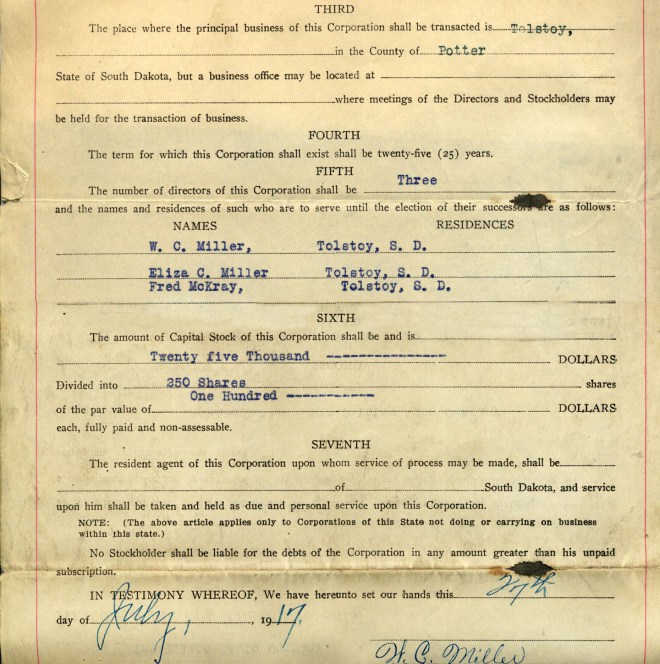 Walter and Eliza went into partnership with Fred McKray to open the Tolstoy Auto Company, and incorporated in 1917.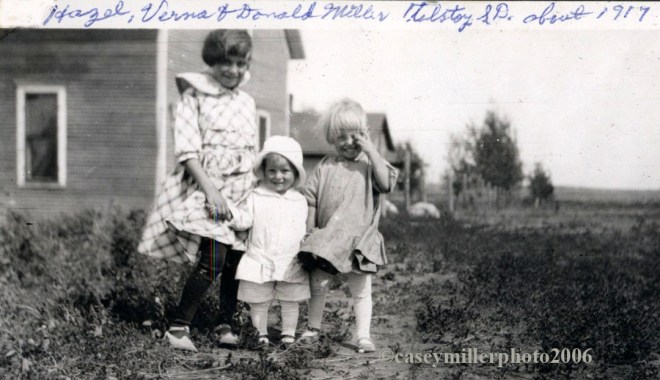 Hazel, Verna and Donald - 1917
In 1918 Walt purchased a building and equipment for the Tolstoy Auto Company.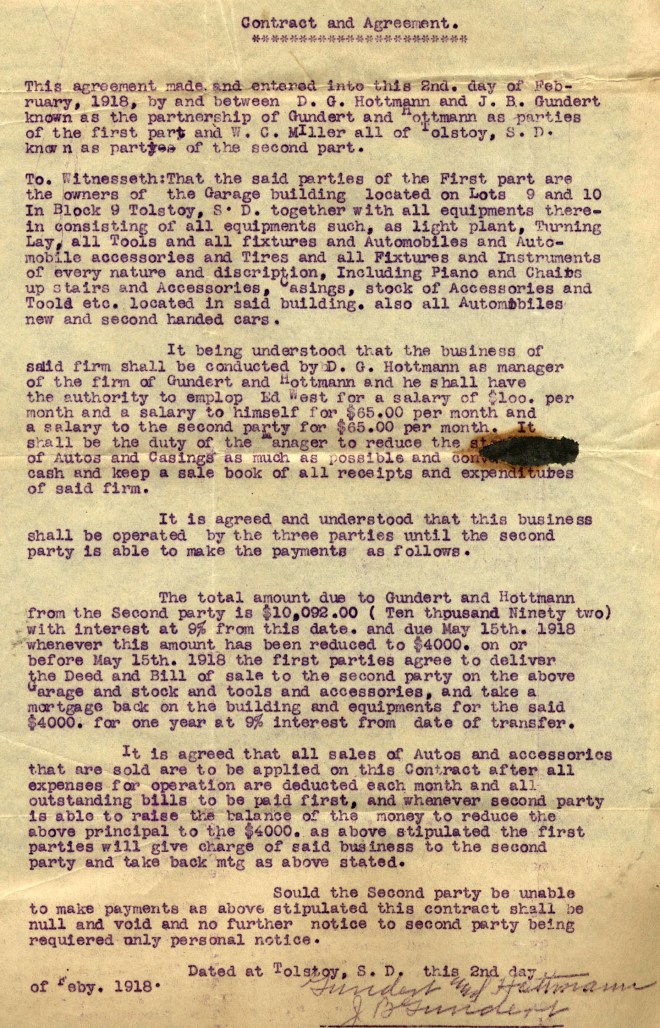 ---
---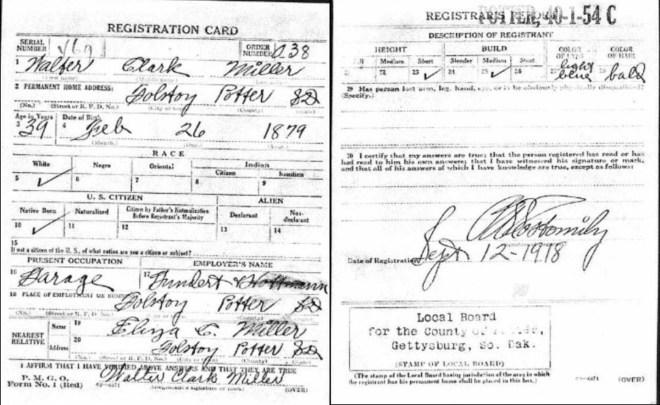 Registering for the draft in 1918.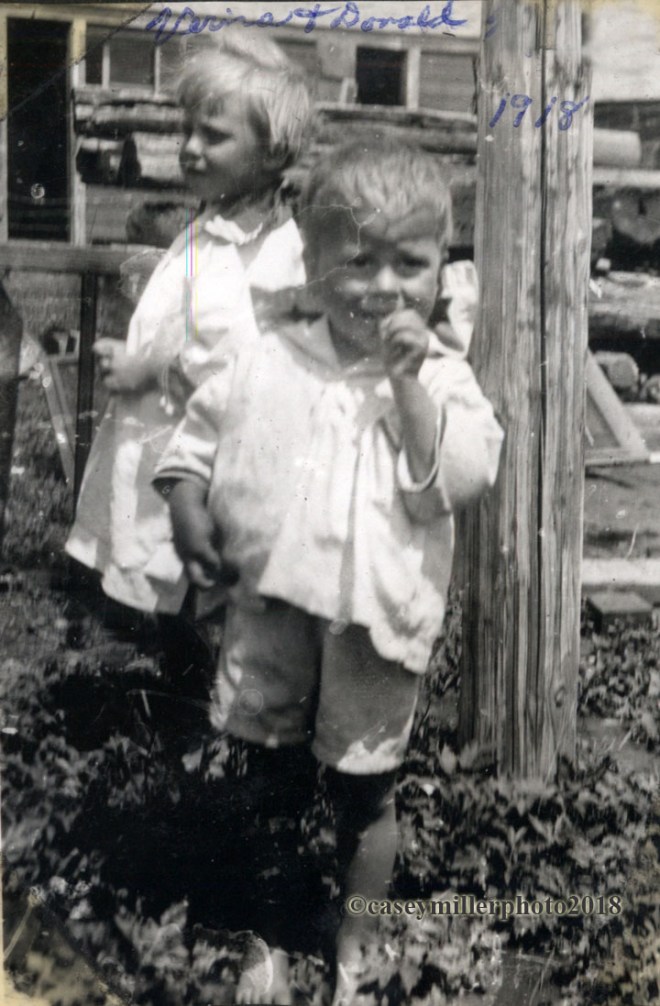 Verna and Donald 1918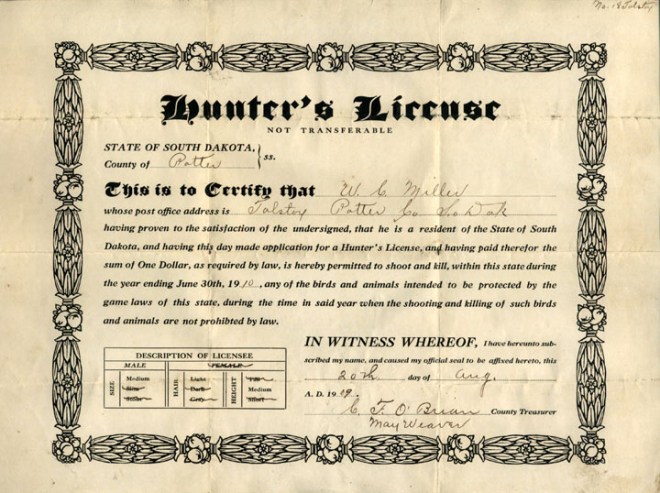 1919 Hunting license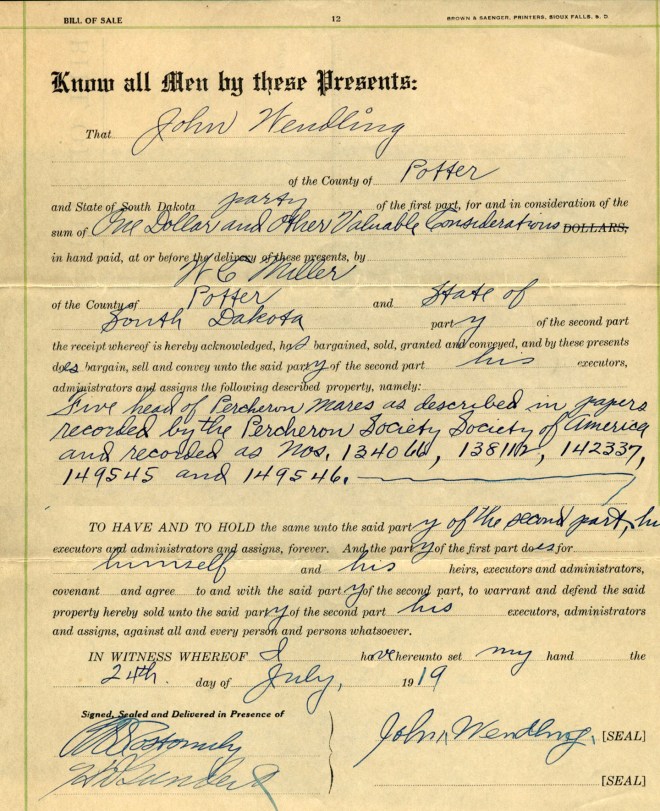 1919 Buying and Selling Registered Horses.


The 1920 Census above shows the ages of all in the family,
from 2 year old Delbert (Buck) to 18 year old Lewis (Cully).
Their last child, Inez, would be born in 1921.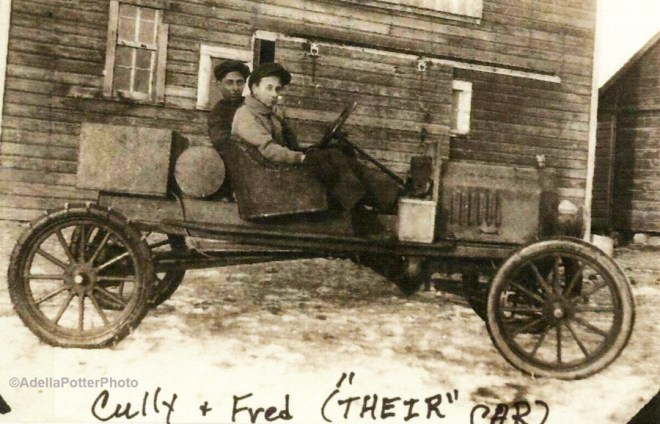 Lewis (Cully) and Fred in a car they could use.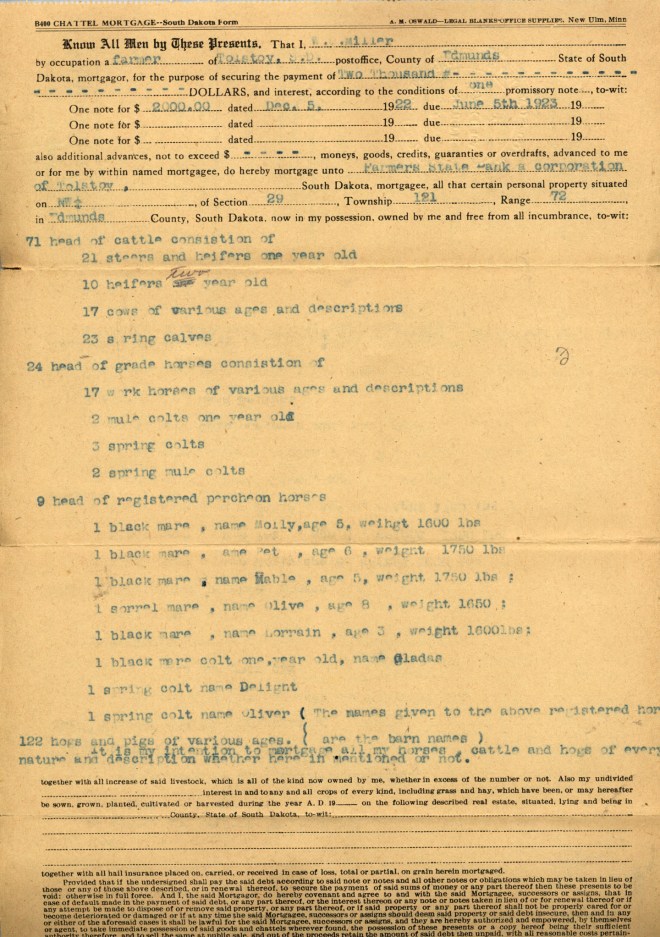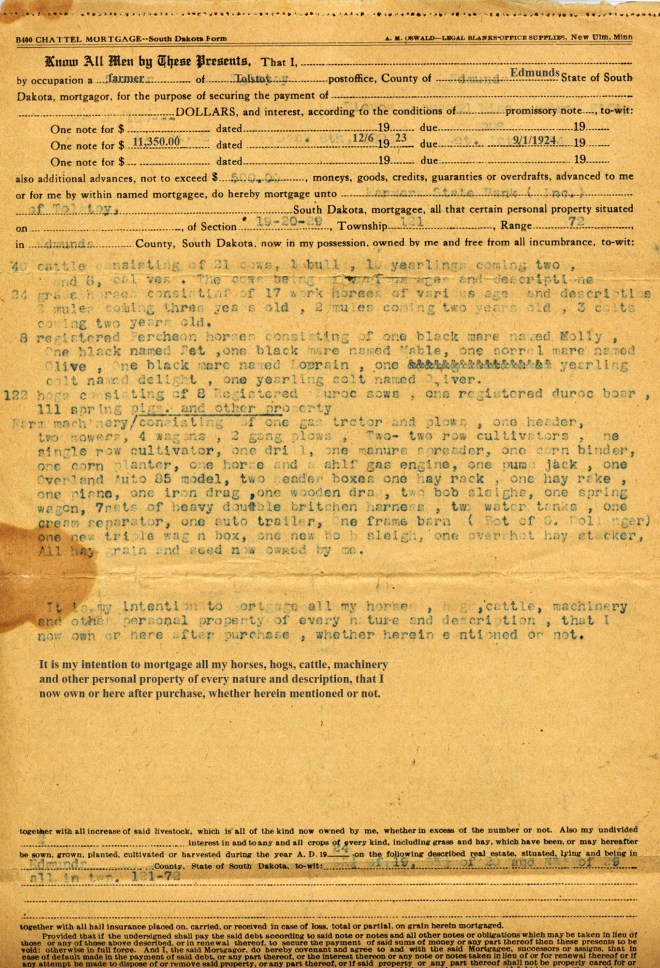 The businesses didn't produce enough profit to cover the heavy indebtedness,
and they struggled to satisfy the bank. From 1922 through 1924 they continually refinanced the debt,
pledging everything they owned. Finally the bank collected.
"The summer of 1925 found things about the same. . . a lot of hard work with very little profit. Dad was indebted to the Tolstoy Bank and we could hardly make enough to pay the interest on the loan. It was a losing game so Dad sold out and turned the proceeds of the sale over to the bank. We decided never to have any more debts"! (Casey Miller)
No individual, facebook page, pinterest or any other group, nor website, blog, or any other entity
has permission to post any intellectual property from dondennisfamily.com.
Email us for inquiry regarding publishing our material.




Put Website in Subject Line