USS FOGG DE-57
1996 Reunion

FROM THE COLLECTION OF
SALVATORE J. Di MILLA
Sonarman SoM2/C
USS Fogg, 1945-1946


Captain Jim Jameson,
Tony Skura





Captain Jim and Ruth Jameson



Vincent and Mary Kay Higgins



Unidentified Officer with
Captain Jim and
Ruth Jameson




Unidentified Officer with
Captain Jim Jameson



Perry Yon of Norway SC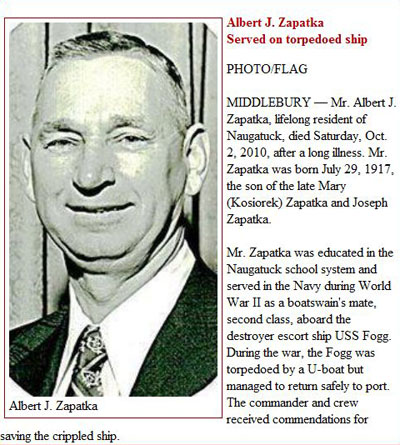 (submitted by Mike Toronto)
Burial Information: Mr. Albert J. Zapatka
Do you have other pictures of this reunion? We would love to borrow them for the site. If anyone can help us identify the unidentified officer from the USS Fogg, please write and let us know who he is. We would like to honor each and every one. Thanks.
All Photos from Salvatore Di Milla, scanned by Jeff Von Holten; published with permission and
Property of this website; write for permission to duplicate.



Put Website in Subject Line
No individual, facebook page, pinterest or any other group, nor website, blog, or any other entity
has permission to post any intellectual property from dondennisfamily.com.
Email us for inquiry regarding publishing our material.




Put Website in Subject Line