LUCIEN W. AND SAMANTHA BRIGGS MILLER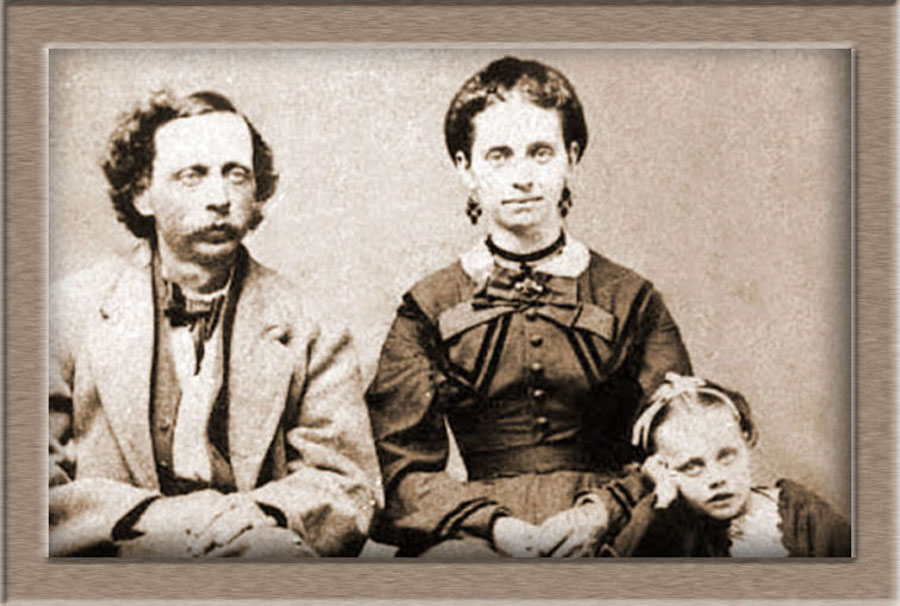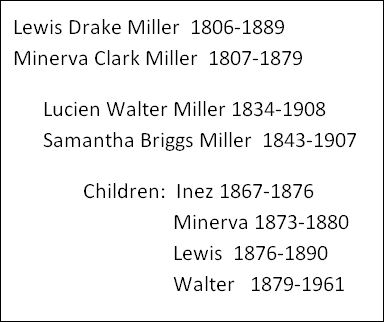 Lucian Walter Miller was born on May 18, 1834, in Columbus, New York, to Minerva Clark Miller and Lewis Drake Miller. His was a farming family, and he grew up helping his father and learning his trade.
Lucien and Samantha (Asenath Utter) Briggs were married February 9, 1860. He was 26 and she was 18 years old.
Asenath had been born to Clark Utter and Polly Spalding Utter, on June 18, 1843. Her early history is confusing, but a thorough study by Keva Joens can be found here. She and her Utter siblings are found in the 1850 and 1855 Censuses to be living with Rufus and Celma Briggs. The Briggs eventually adopted Asenath after her mother Polly died in May of 1856, and changed her name from Asenath Utter to Samantha Briggs. Her father Clark R. Utter is listed on the 1880 Census to be living in Michigan but nothing further is known about him.
The newly married couple stayed in Otselic, NY near the large Miller family.

The 1860 census reveals Lucien had his own real estate, valued at $1,200, with a personal estate of $125. A list of his worldly goods was found in his papers.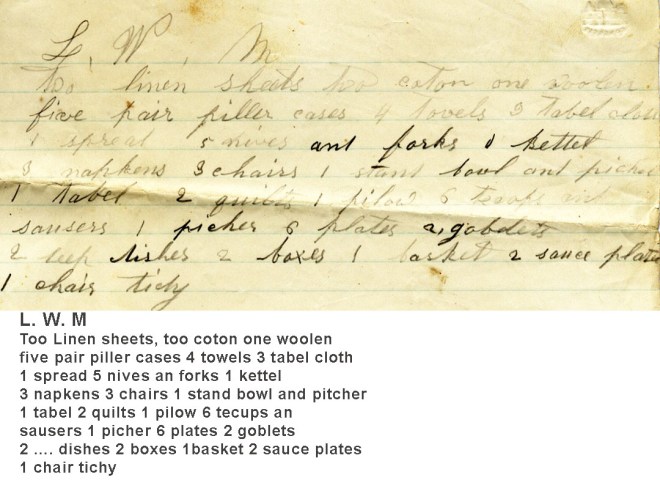 Lucien's Household Inventory - Taxes had to be paid on personal property!
---

Their daughter Inez was born in 1867.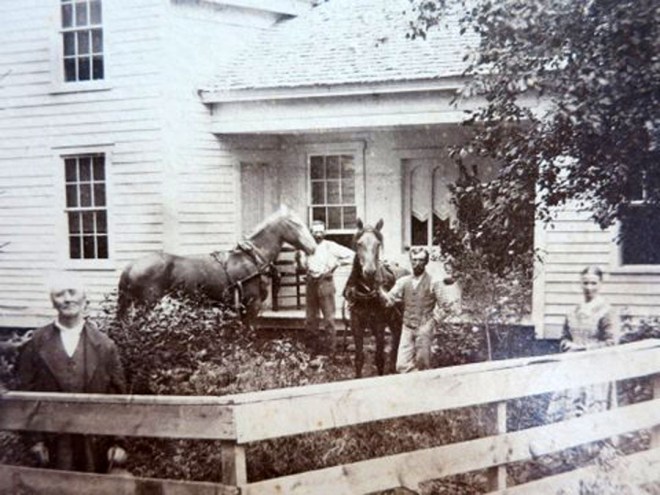 Left: Lewis Drake Miller. Right: Mrs. Charles Miller
Holding Horses, Left: Lucien, Right: Charles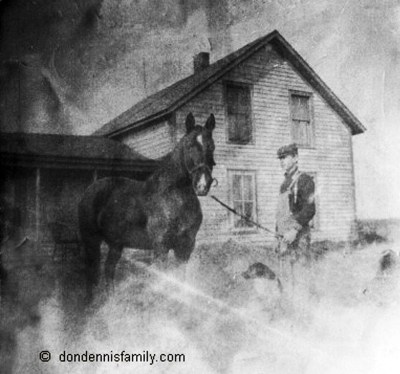 Lucien W. Miller, 1832 - 1907
Lucien must have decided to purchase a plot of land in 1869. He was 34 years old, now had a family, and thus he borrowed $7,482. Land values in this time ranged from $50 to $100 an acre.
Interest was a whopping 12%! The language of the loan is quite unusual with no actual term or set payment.
Lucien Bank Mortgage (click to read)
---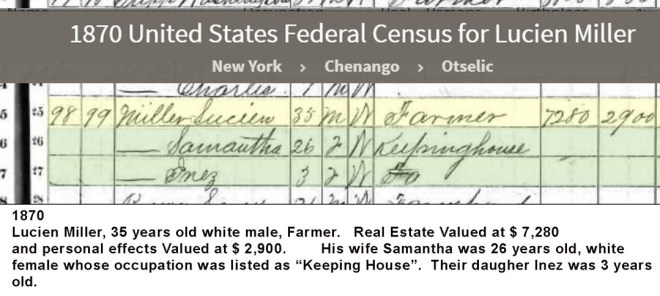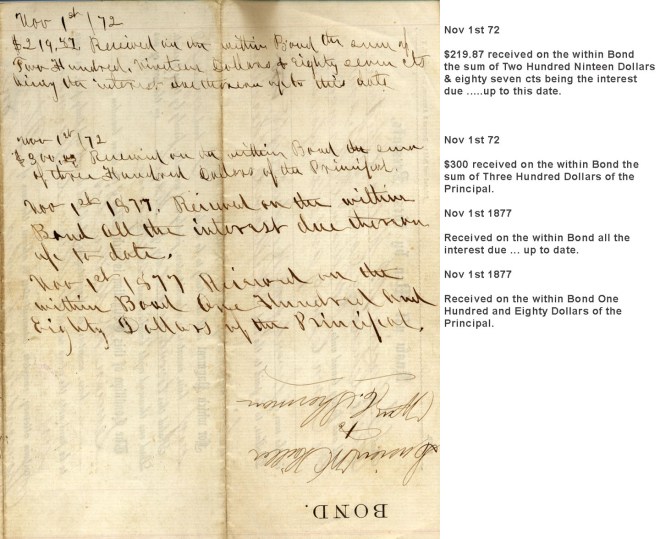 Payments against land loan.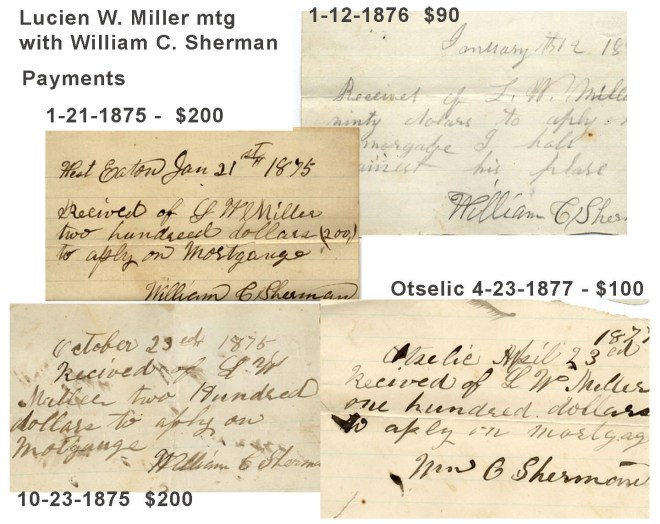 1875-1877 Mortgage Payments Chad Miller Research.

1875 Census
Lucien and Samantha had two children as Minerva was born in 1873. The above 1875 Census states Lucien and family lived in a frame house, valued at $500.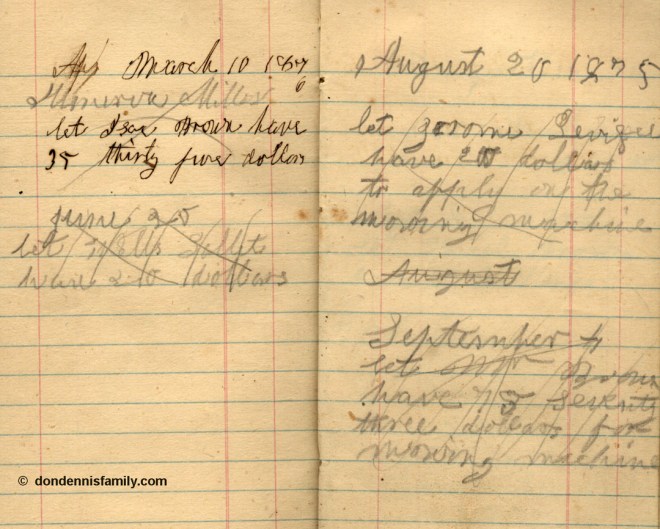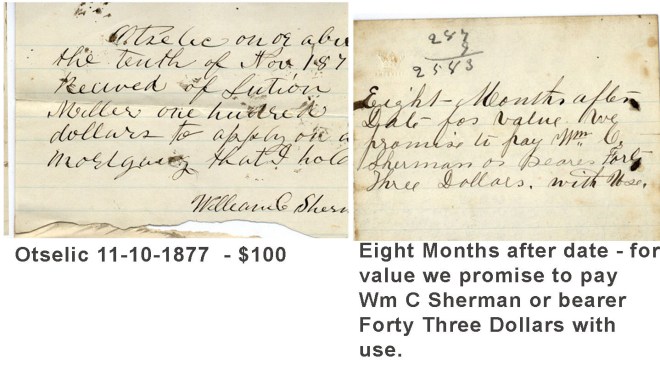 The payments continue through the years - Lucien kept notes on work he did,
things he raised and sold. They give us an insight into their struggle.
The personal struggles were seemingly worse than the financial problems.
Lucien's brother Silas died at 16. Lucien's little daughter Inez passed away
in 1876 at 9 years old - she was buried in Stanbro Cemetery in Otselic.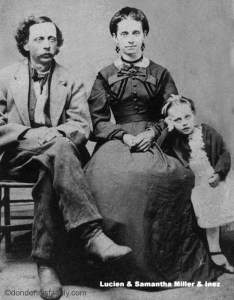 Lucien, Samantha and Inez

Inez Miller Grave
Lucien and Samantha had a third child, Lewis, also in 1876. He was born just 3 months before Inez died.


1879 Lucien Income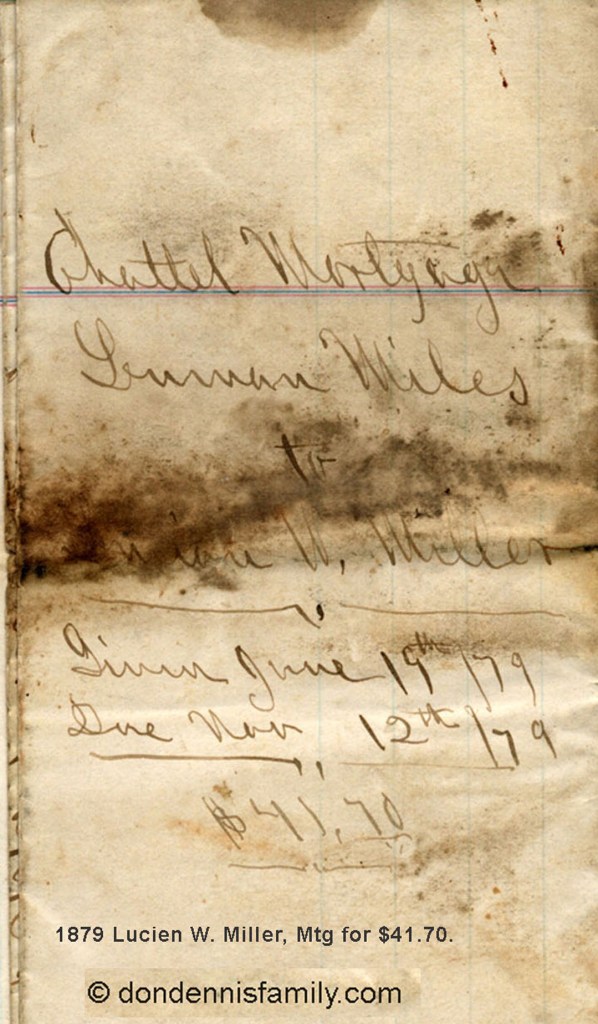 1879 Chattel Mortgage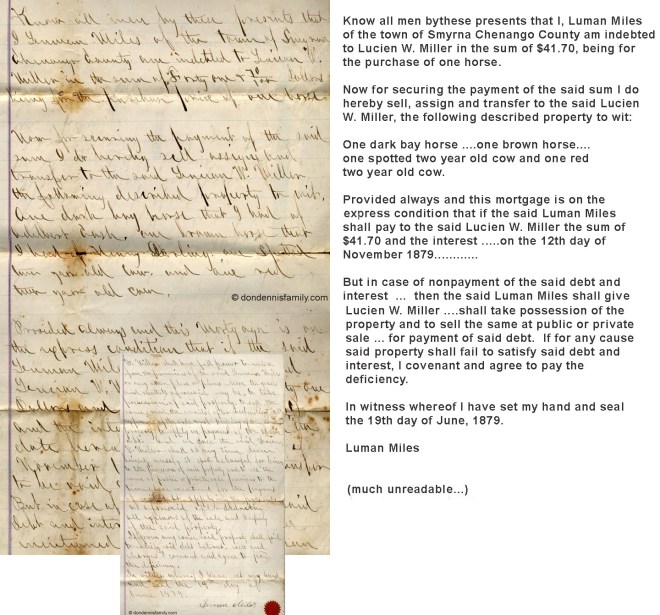 1879 Miles debt for Horse, to Lucien.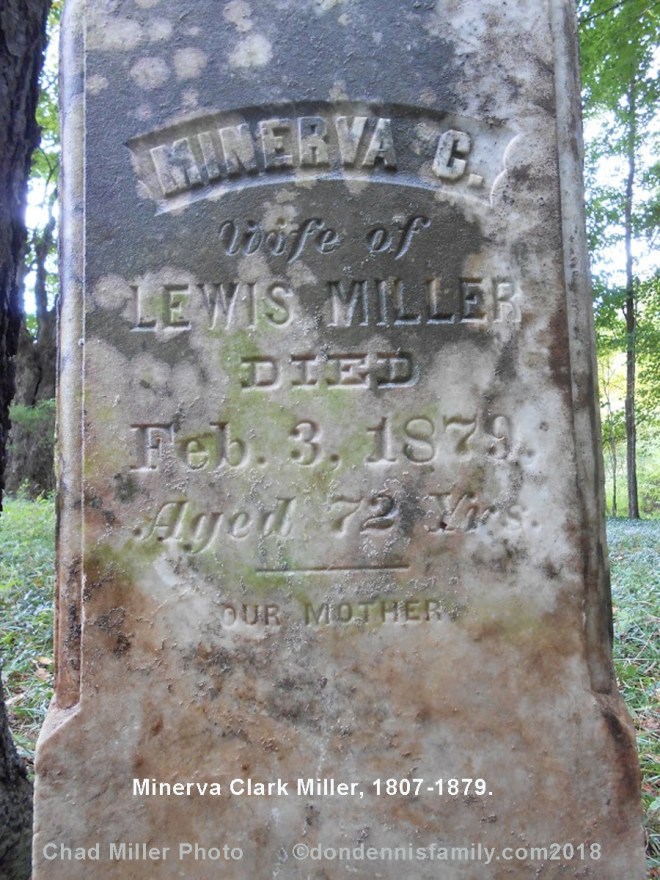 1879 was the year Lucien lost his mother Minerva Clark Miller, on February 3, 1879. Walter Clark Miller was born February 26, 1879, 23 days after his grandmother passed away. And, within a few months of the baby boy arriving, 6 year old Minerva passed away on June 12, 1880, and was laid to rest in Stanbro alongside Lucien's mother and daughter Inez.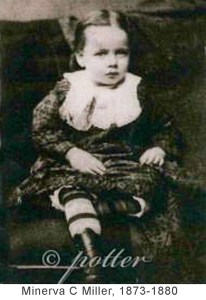 Lucien's Daughter Inez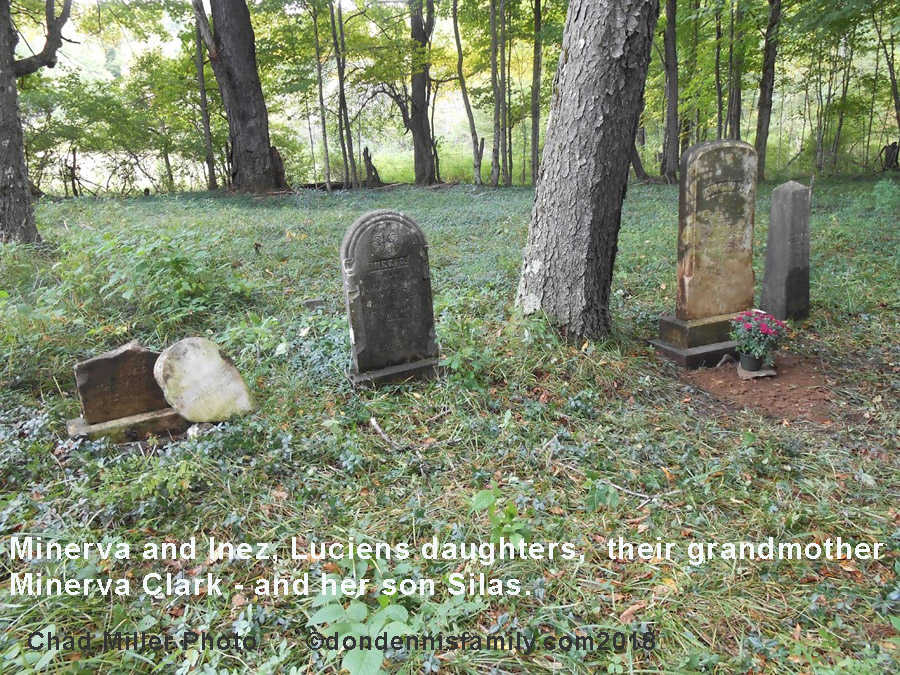 L-R: Minerva C Miller and sister Inez C Miller, grandmother Minerva (Clark) Miller and Minerva (Clark) Miller's son Silas C Miller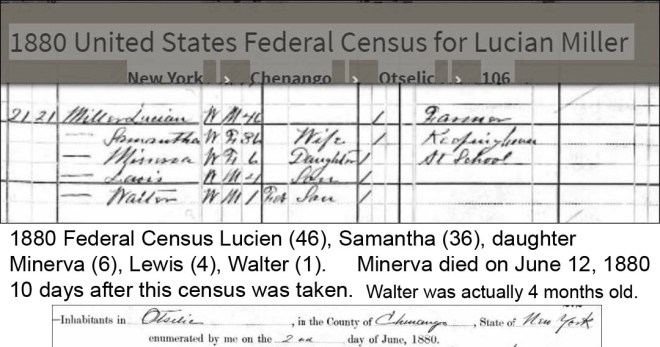 Census 1880 2 June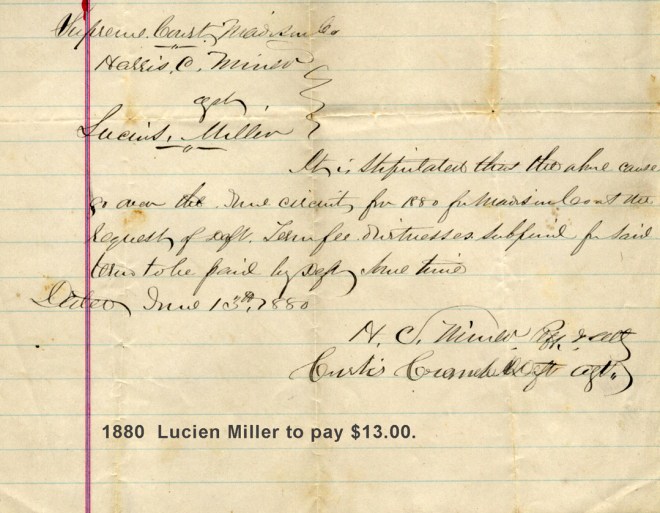 Lucien, his wife and two sons and Lucien's widower father Lewis Drake, decided maybe South Dakota would be a better choice. In 1885, they sold their farm in NY and headed West. Lucien's brother, Henry Miller, 6 years younger than Lucien, also went with them.

1885 Lucien $30 Appraisal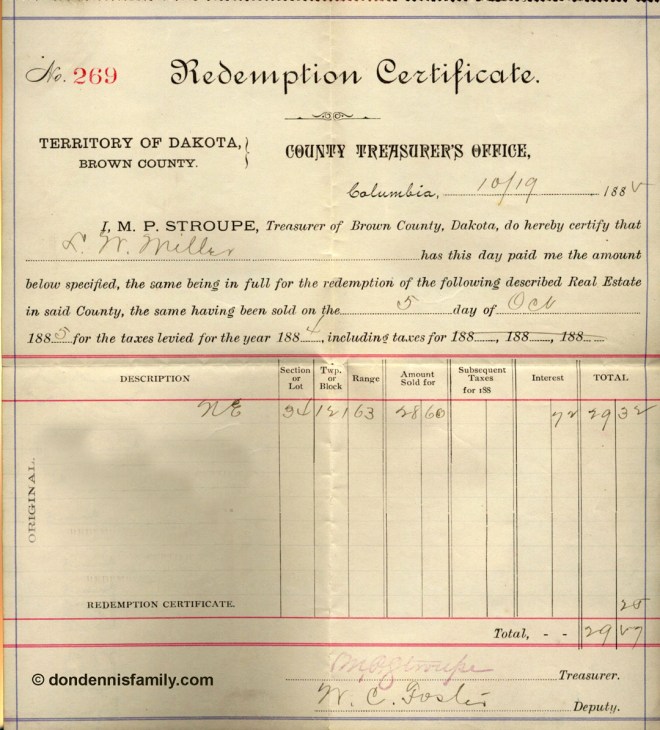 In October of 1885, in South Dakota, Lucien appears to get an appraisal and then possibly he bought the land with the previous year's taxes still due. The family was now in Rondell, Brown County, Territory of Dakota.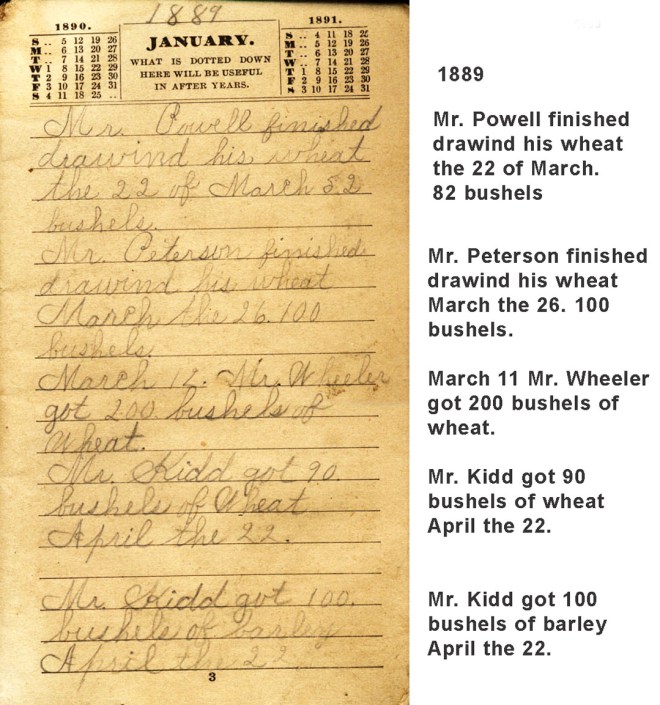 1889 Lucien Grain Stats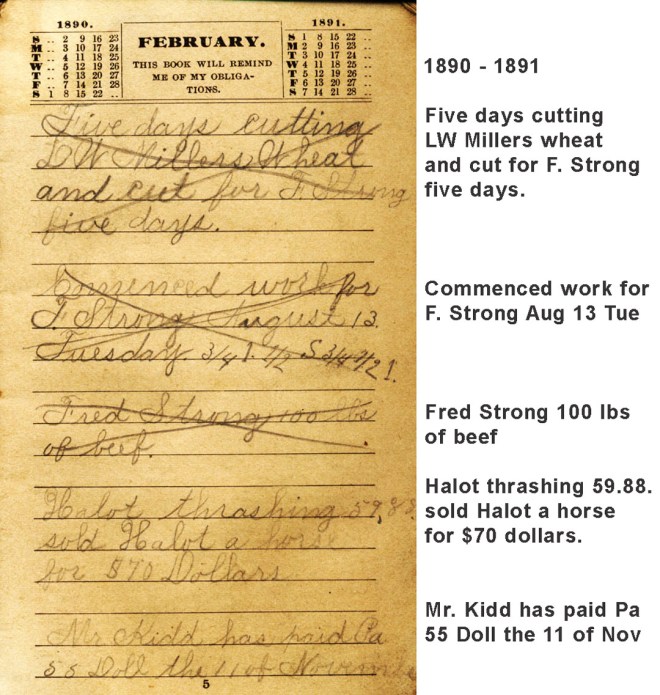 1890 Lucien Labor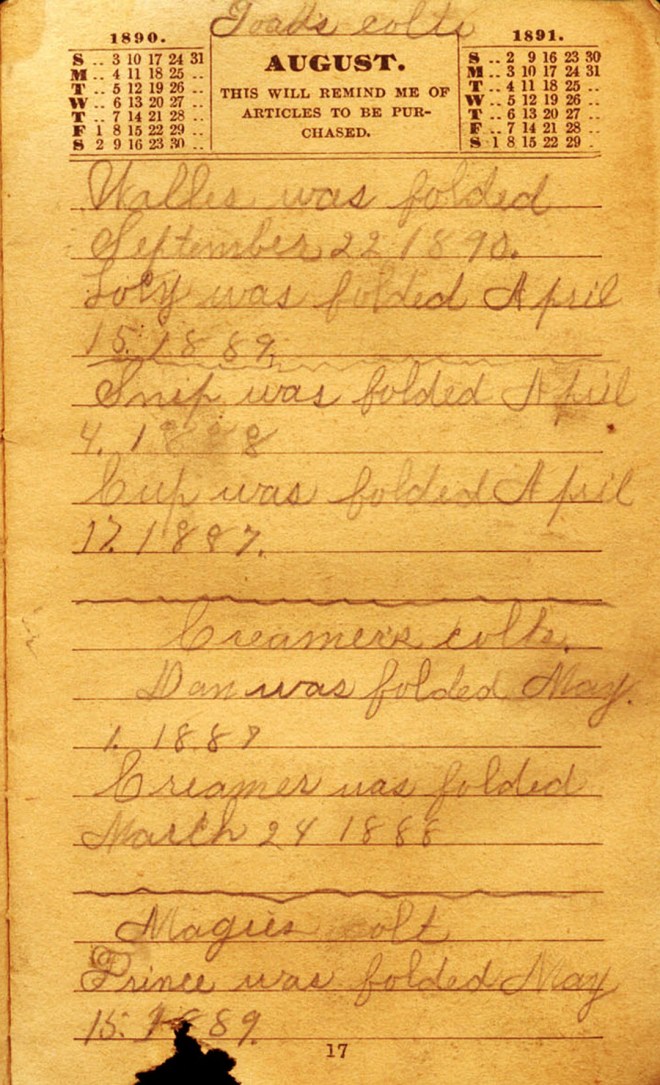 1890 Lucien Colts
---
Tragedy struck again in 1890. Lucien and Samantha's son Lewis died on August 31, 1890. He was 13 years old. They had now lost three of their four children and eleven year old Walter Clark was their only surviving child. Lewis was buried in South Dakota along the James River.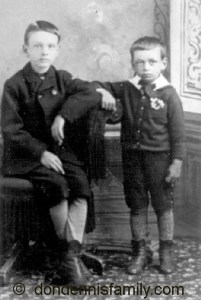 Lewis and brother Walter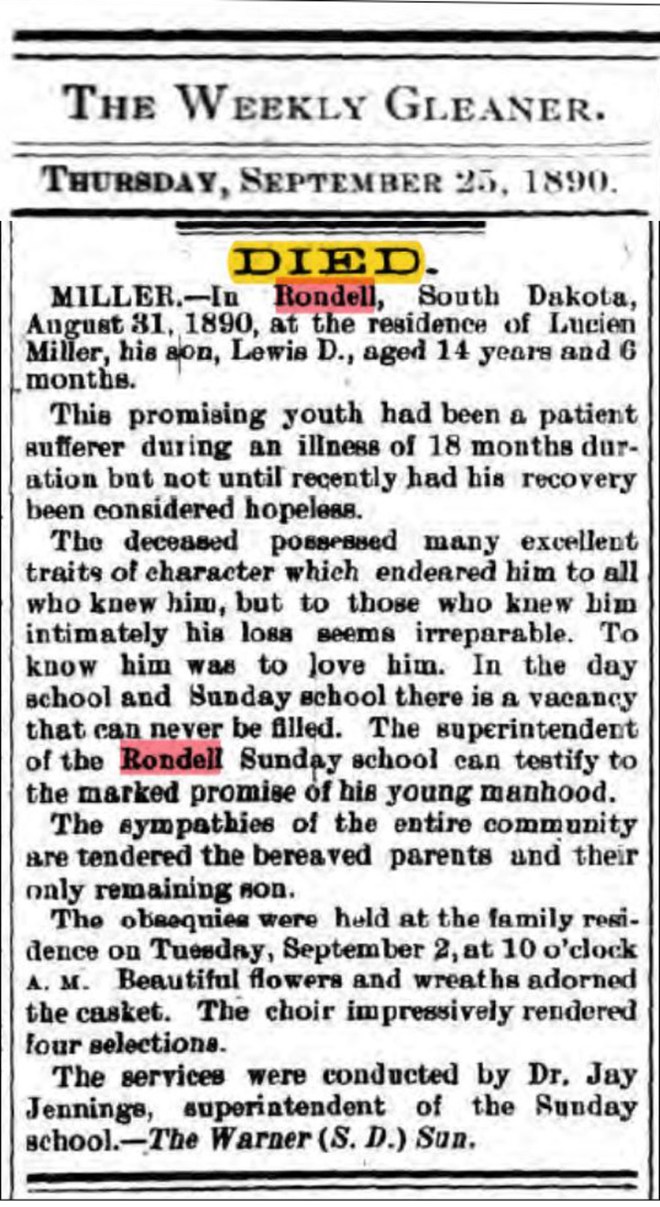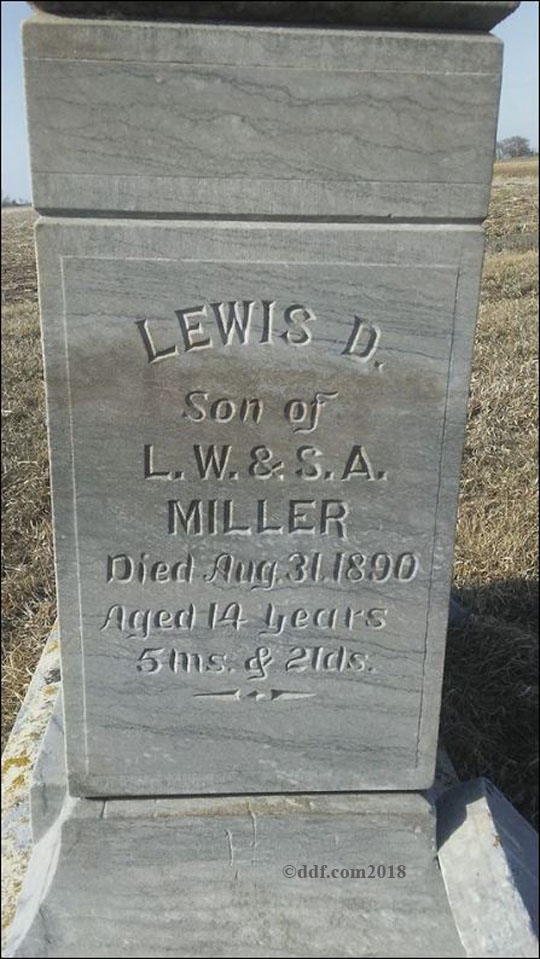 ---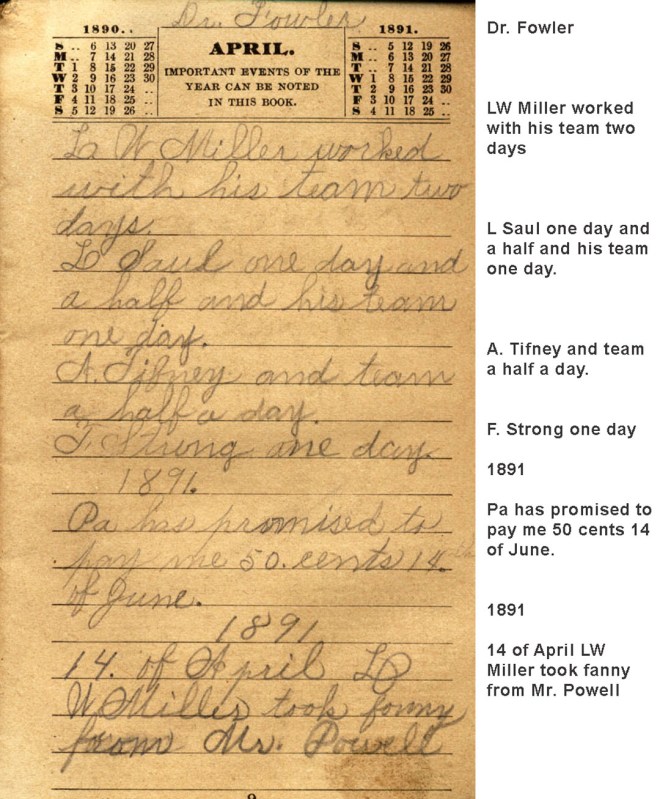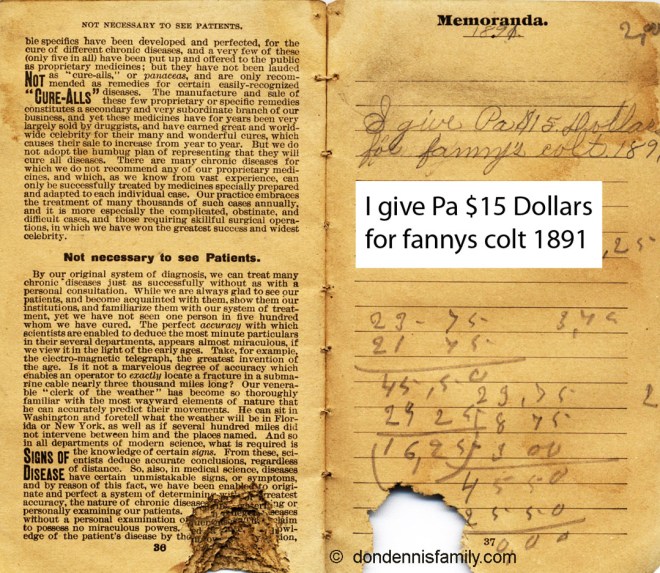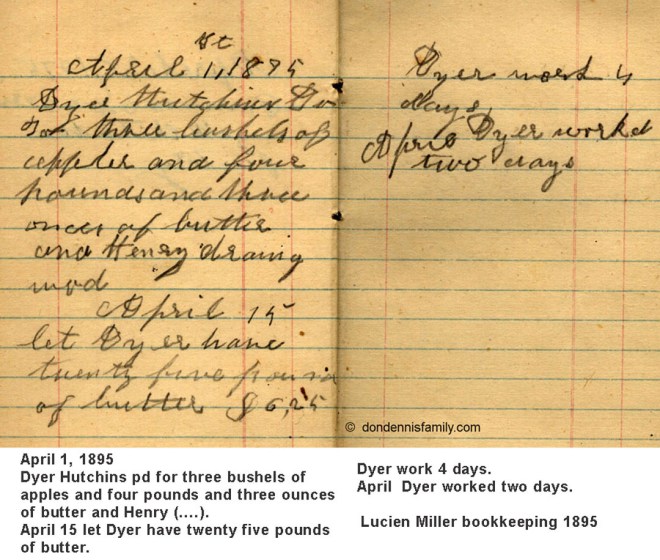 1895 Lucien selling Apples and Butter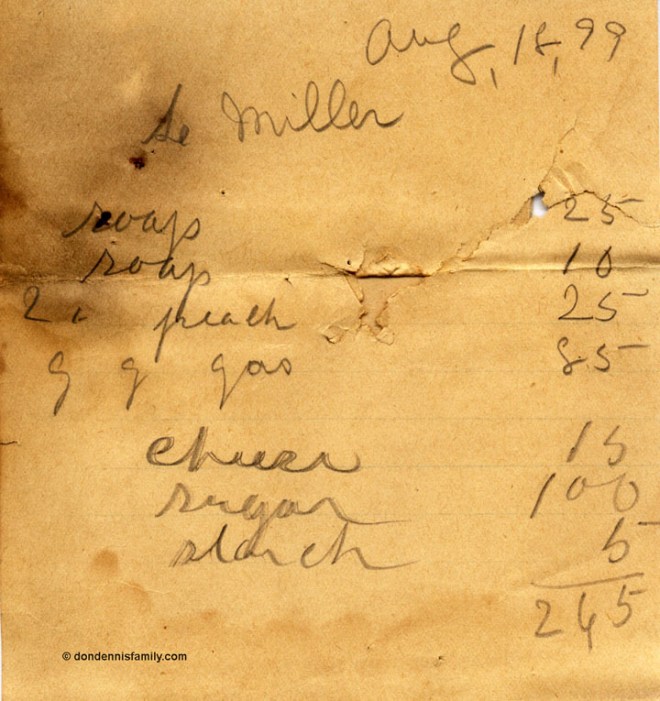 1899 Lucien Grocery Receipt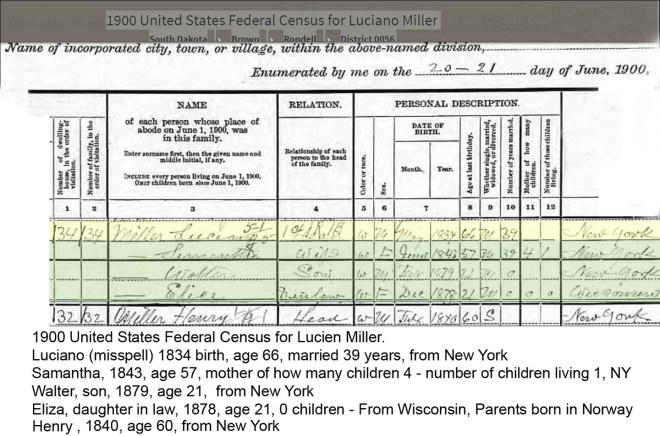 1900 Federal Census[/caption]
Son Walter Clark had married Eliza Tolvstad.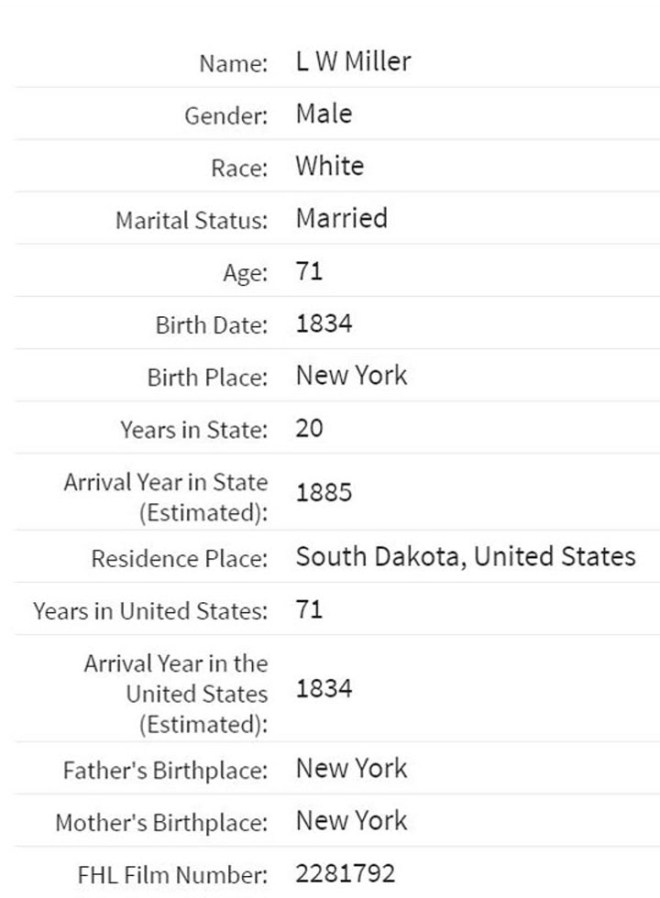 1905 Federal Census
Samantha Briggs Miller passed away in 1907.
Lucien Walter Miller died in 1908.
Both Lucien and Samantha were buried in the
Rondell, SD, Oakwood Cemetery.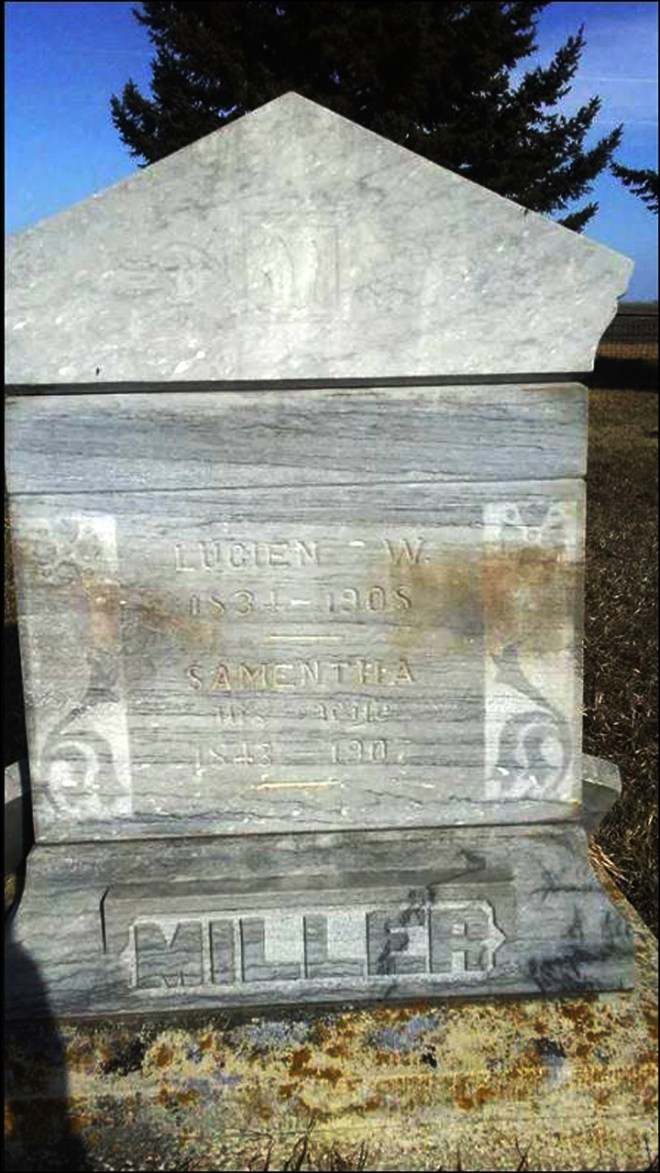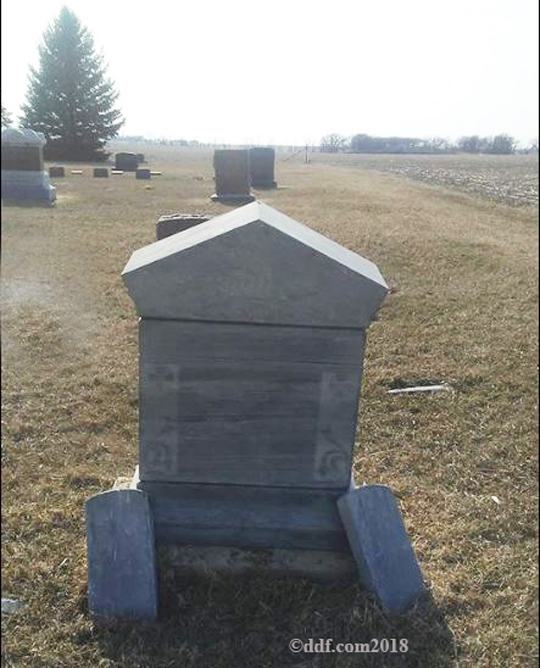 Behind Lucien and Samantha's Grave Stone are two tiny Plaques.
Did someone add those to represent the two little children who died in New York
and weren't buried with the family in South Dakota?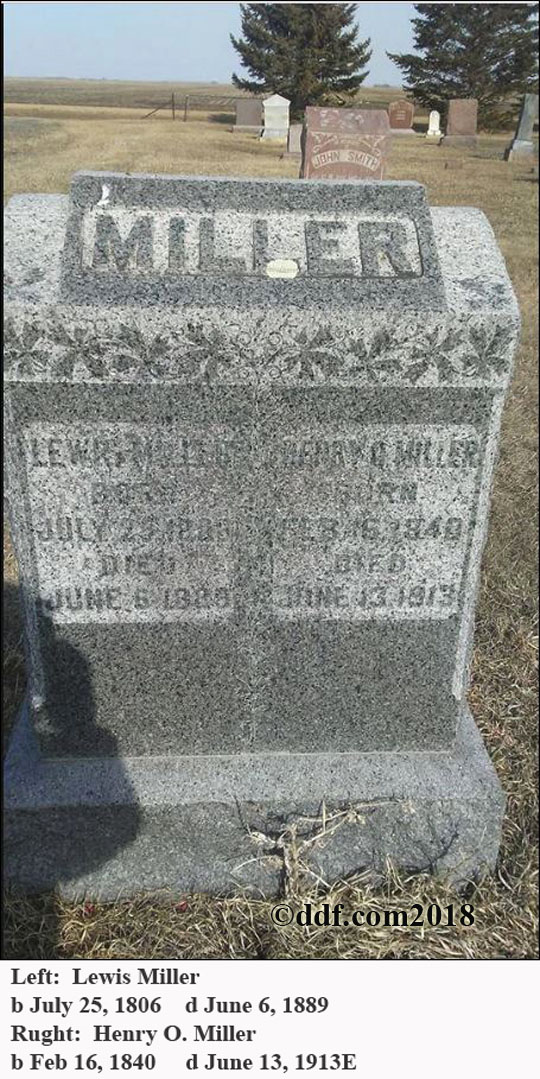 Lewis Drake Miller, Lucien's father, and Lucien's brother Henry Miller
are also buried in Oakwood Cemetery, Rondell, SD.
Walter Clark Miller's daughter Eunice Minerva Baker (born in 1904), wrote in 1972: "Lucian died in 1908 and I have no recollection of him alive, but I remember his funeral quite distinctly. It was held in a large room in the home, and I sat on my father's (W.C. Sr) lap. The coffin was in the center of the room".
Click to read: LETTERS TO SAMANTHA FROM HER MOTHER AND SISTER!
No individual, facebook page, pinterest or any other group, nor website, blog, or any other entity
has permission to post any intellectual property from dondennisfamily.com.
Email us for inquiry regarding publishing our material.




Put Website in Subject Line