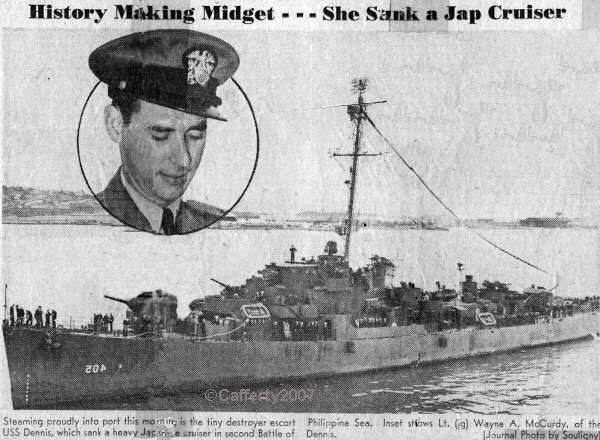 451
History Making Midget ---She Sank a Jap Cruiser
"Steaming proudly into port this morning is the tiny destroyer escort USS Dennis, which sank a heavy
Japanese cruiser in second Battle of Philippine Sea. Inset shows Lt. (jg) Wayne A. McCurdy, of the
Dennis."


452

Sea Encounter with Japs Told

Rescue Stories are Disputed by Officer off Escort Destroyer.

"Nobody saved us. We were just damned lucky the Japs didn't sink everything we had."

Historians may write volumes about the Second Battle of the Philippine Sea....but, Lt. (jg) Wayne A. McCurdy, a youthful Naval officer aboard the USS Dennis, a tiny escort destroyer, this morning gave a graphic, concise account of part of the action.


Sharp Contrast


It was in sharp contrast to the vivid magazine and newspaper stories that credited the Third Fleet with making a spectacular last-minute rescue.

It was this 1,500 ton Dennis that sank a Japanese heavy cruiser (10,000 tons) with a torpedo, marking the first time in Naval history that such a triumph was scored.


Preceded Battle


In a move that Naval tacticians still debate, Admiral Halsey pulled his mighty Third Fleet 300 miles to the north seeking a Japanese task force, which seems to have never been signed or seen; certainly never contacted.

That move preceded the battle of Samar Island in which the Dennis fought alongside a small force against an invading Jap fleet that had it so outnumbered and outgunned that it was like a Singer's Midget slugging it out with Jack Dempsey.

The action, fought last October in the Layte operation, saw the Japs sink:

2 escort carriers, the St. Lo and Gambier Bay
2 destroyers
1 destroyer escort, the Roberts
Badly damaged, but afloat were three American escort carriers, two destroyers and two destroyer escorts. That was all that was left of this courageous force.

Halsey's planes returned to the rescue at 6 p.m.

"The Jap force left at 10 in the morning," Lt. McCurdy said. "I don't know why. But it sure makes you believe in religion. They could have finished us off in 15 minutes."
Caught Japs

Halsey's planes, however, did catch up with the Jap fleet that night, sank a battleship, damaged another and inflicted many wounds.

The Dennis steamed into port this morning and aboard are a lot of fighting men loaded with decorations. Comdr. Sigurd S. Hanson, who skippered her when she was in battle, had been transferred. lt. Comdr. Stanley N. Gleis of Los Angeles, brought her home.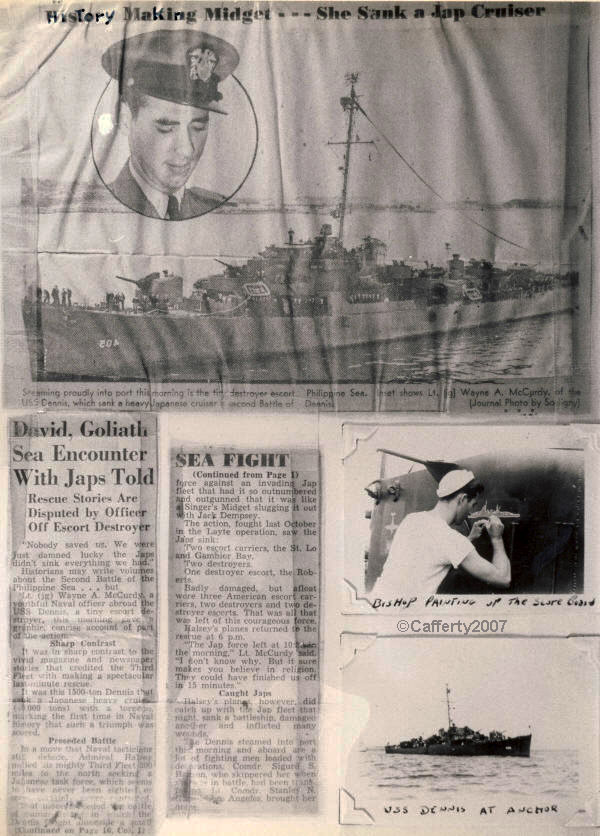 453

454
Harold Martin, Louisville, KY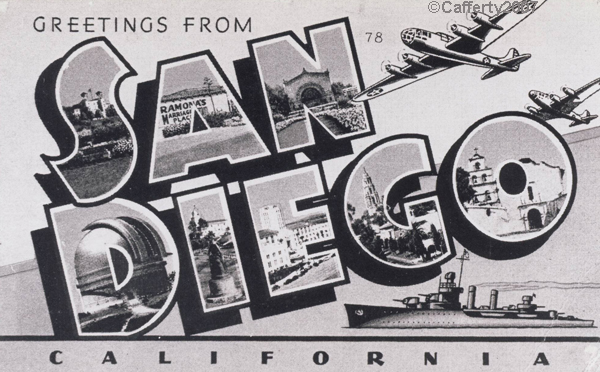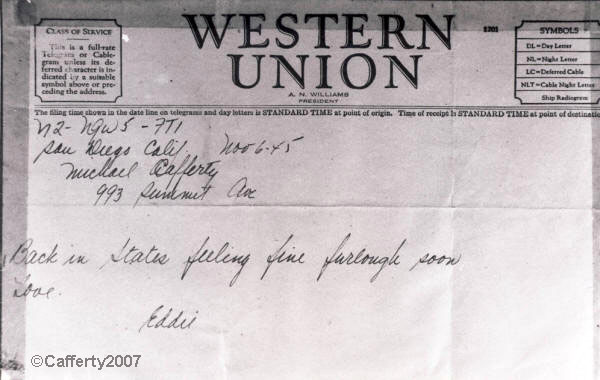 455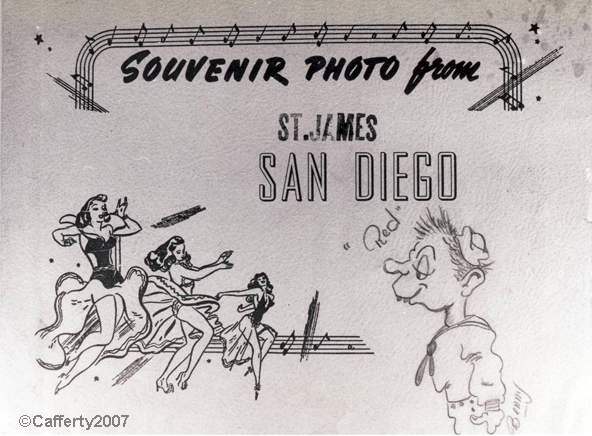 456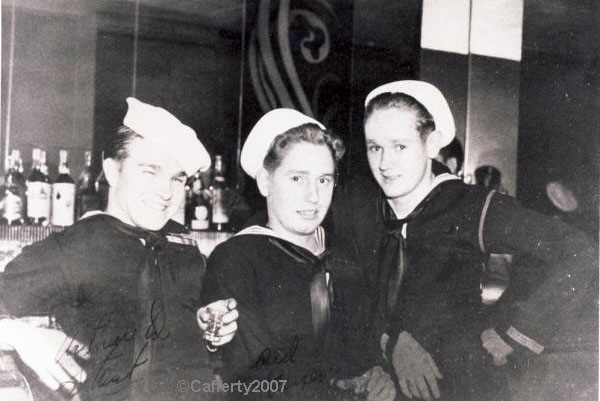 457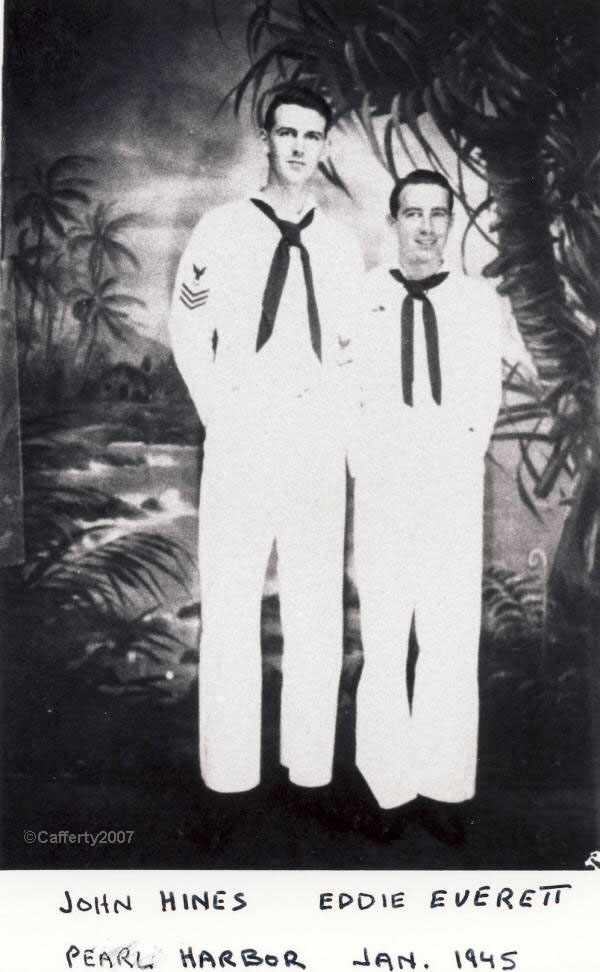 458
John Hines, Eddie Everett, Pearl Harbor, January 1945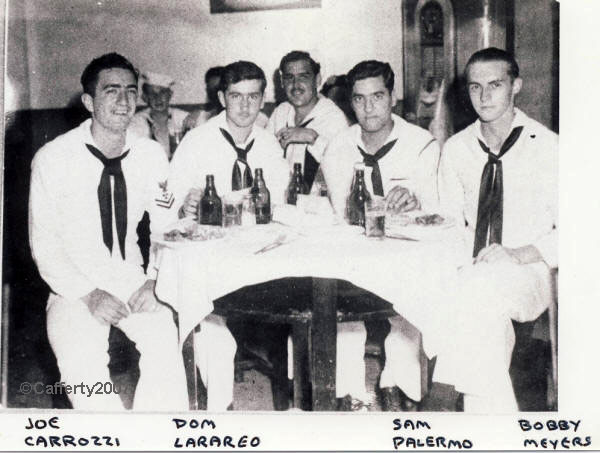 459
Joe Carrozzi, Dom Larareo, Sam Palermo, Bobby Meyers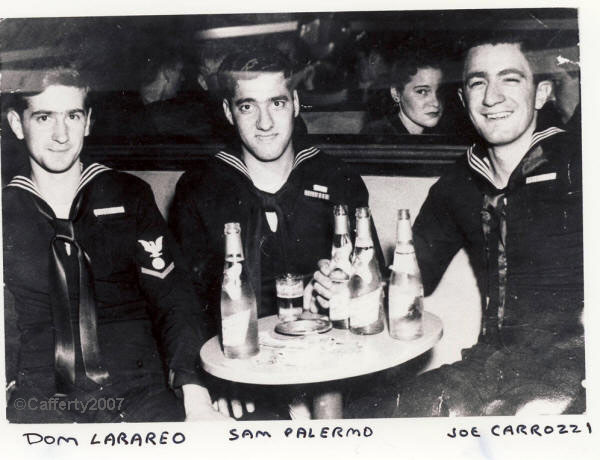 460
Dom Larareo, Sam Palermo, Joe Carrozzi

461
Bill Lyons, WT/1c, Washington, WV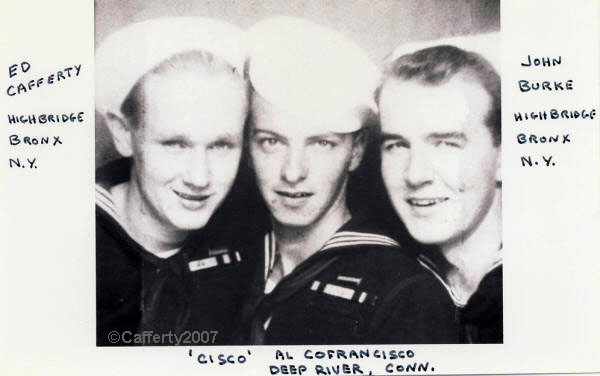 462
Ed Cafferty, Highbridge Bronx, NY; "Cisco" Al CoFrancisco, Deep River, CT; John Burke,
Highbridge, Bronx, NY

463
George Jenkins, Rush, KY; Fred Graziano, Nyack, NY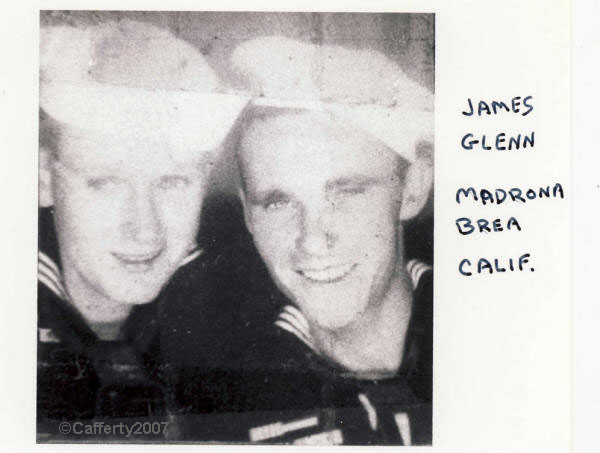 464
Edward Cafferty, James Glenn Madrona Brea, CA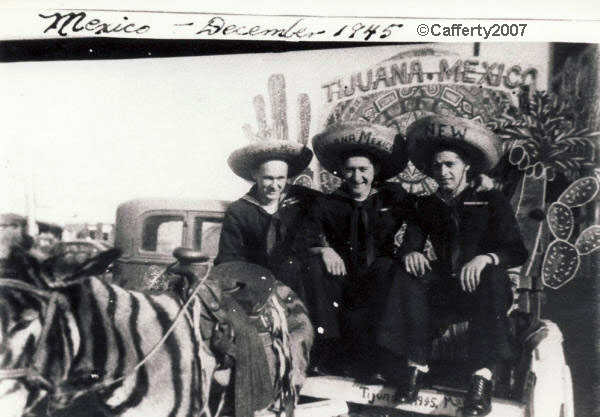 465
Mexico, December 1945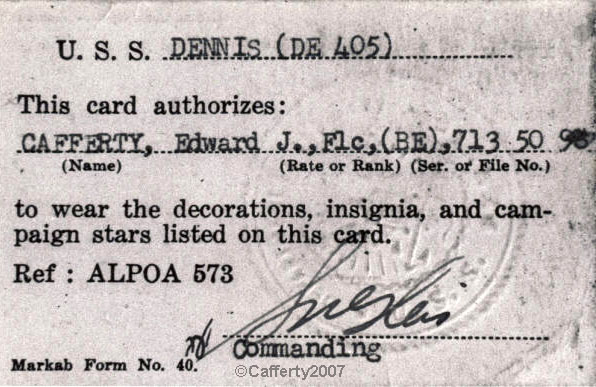 466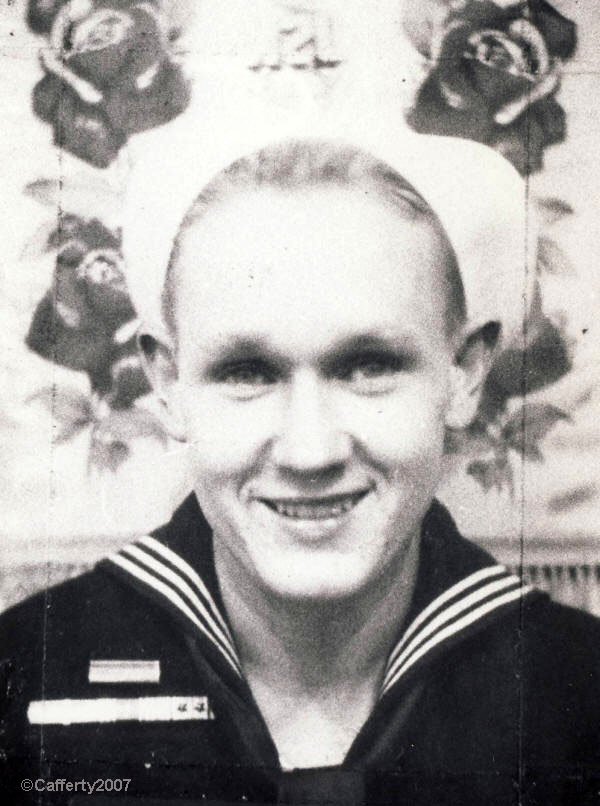 467
Edward Cafferty