COPYRIGHTED AND CAN NOT BE COPIED WITHOUT PERMISSION!
July 20, 1972
Honorable Leo Dennis
Fowler, Colorado
Dear Mr. Dennis:
To introduce myself, I am the son of Golia Edward Rather, formerly of Scottsville, KY. his mother, my grandmother, was before her marriage to B. C. Rather, the former Alice Dennis, sister of your late father, John L. Dennis.
Your name came up in a conversation with a client formerly of Allen County, KY who had married a niece of your mother, Mattie Newman Dennis. He wanted to know if your mother was still living.
I have a part time hobby of working on the family tree but didn't get started until after the death of my father in 1957. As a result I know very little about your family. Any help you could give me would be greatly appreciated.
Yours,
Julius Rather
---
July 29, 1972
Dear Julius,
I was very surprised and delighted to hear from you. Your father, Golia, was my favorite and most illustrious cousin. It seemed that we had more in common than our other cousins, possibly because we were the only two in our generation to finish college. Aside from the times we played as kids, Golia and I were only able to be together two times in our lives. The first was in 1928 when our family took a trip to KY. We stayed a couple of nights at Aunt Allie's. They were living in Boling Green at the time. Golia was taking advanced courses at the college and John and Inez were both at home. John rode with us to Indianapolis on the way home.
The second visit with Golia was when he and Aunt Laura came here when Uncle Bob died. That was some twenty years ago. He talked to me of his family, but I am sorry to say I do not remember the number of children he had. I have often wondered as to the whereabouts of his family. I was so sorry he died so early as to be unable to enjoy the fruits of his labors. He was a self made man and a gentleman.
The family of John Levi Dennis, my father, emigrated from KY to Fowler, CO in October 1919. He had a wife and four children. John L. Dennis engaged in laboring jobs but soon purchased a hauling business. He engaged in all kinds of hauling and unloading of freight cars of lumber, coal, flour, cement, etc. He soon purchased a water tank and hauled domestic water to the farms as well water here has too many minerals and alkali for use as domestic water. The water would be stored in cisterns on the farms. He also purchased a gravel pit and his business evolved into hauling sand and gravel and delivering water. He continued in this business until at age 75 he suffered a severe stroke and died three years later at age 78.
Mattie Pearl Dennis, his widow, my mother, age 83, lives here in the house Dad purchased when we came to Fowler. She is in very good health for her age.
Karie Leo Dennis, me, age 64, is a retired Federal Civilian worker, graduated from Colorado State University in 1936. I worked variously as an Industrial Chemist with the US Public Health Service and finally with the Dept. of Defense at the Pueblo Army Depot. There, I conducted the Occupational Health, Sanitation and Radiological Health programs for the Medical Division and retired in 1969.
Loraine (Dennis) Andrews, my sister, a registered nurse, live in Tucson and Phoenix, AZ, then Los Angeles and San Francisco, CA. Her husband was/is an Insurance Adjuster. Loraine died of cancer in 1968, her husband has remarried and now lives in Anchorage, AK.
My brother, Otis Lee Dennis, was killed in action Feb. 1, 1942, WWII. He was a rear seat gunner on a dive bomber, attached to the aircraft carrier USS Enterprise. He was present at the Pearl Harbor attack and was shot down later in the Marshall Island battle. He was awarded the distinction of having a ship DE-405, USS Dennis, a Destroyer Escort named for him. The USS Dennis participated in several South Sea naval battles, and is now mothballed at San Diego, CA.
My sister Elizabeth (Dennis) Hancock McCarthy, a nurse, had two sons, John and Frank, by her first husband and three daughters, Lori, Joni and Judi, by McCarthy. She is living here in Fowler with my mother and the girls.
Donald A. Dennis, son of myself and Florence Wright Dennis, is Editor of the Fairbanks News-Miner, a daily paper, is married to Ann Miller Dennis, has four children, and is living in Fairbanks, AK.
Dolores Dennis, daughter of Otis L. Dennis, is living in Ft. Collins, CO.
Loraine Dennis and Carroll J. Andrews did not have any children.
A resume' of the Robert (Bob) Dennis family is as follows:
Robert (Bob) Dennis emigrated from Kentucky to Fowler, CO in late November 1919. He had a wife and three children. Uncle Bob variously ran a restaurant for many year, did carpentry work and later ran an Ice House where he delivered ice and sold block ice. He died of a heart attack about 20 years ago (in 1948).
Arlie (Dennis) Rumgay, daughter of Bob and Clara Dennis, ran a beauty shop in Fowler for many years and died about 1966.
Clara Dennis, widow of Bob Dennis, is 90 years old and presently in a rest home here in Fowler. We look after her affairs. She is alert mentally but can not walk due to a bad hip.
Robert Earl Dennis, Bob and Clara's son, lived in Oakland, CA, was a radio and TV repairman and also managed a recreation (billiard) parlor. He died of a heart condition in 1969.
Gifford, their other son, was killed in a swimming accident when he was a teenager. He dived into a swimming pool in Garden City, KS and hit the bottom.
Arlie, Earl nor Gifford, ever had any children. Earl has a widow living in Castro Valley, CA. Aunt Clara, 90, is all that is left of the Bob Dennis family.
As I record these meager details I am thinking it would be advantageous for you to come here for a visit. My mother Mattie, age 83, and Aunt Clara at 90, could give you a world of information on the early days of the Dennis family. It is approximately 1300 miles (two long day's drive). If you decide to come, don't wait too long as they are quite elderly.
A list of the Dennis family that I know of is as follows:
Charles Dennis, a Methodist minister, lived in Cape Girardeau, MO. He had a wife and two children, Redford and Marguerite. Uncle Charles and his wife are both dead and I have no knowledge of the whereabouts of his children.
Cora Dennis - No knowledge of the whereabouts of her heirs.
Mattie Dennis, wife of Edgar Cline, had two daughters and died in KY a long time ago.
Allie Dennis .. your grandmother.
John L. Dennis - my father.
Laura Dennis had several children including Charles, Clarice, Naomi and two other boys and died in Kentucky.
Will Dennis died in Illinois. For information on his family write to Mrs. Gertie Dennis, 1301 Spruce St., Indianapolis, Indiana.
Marvin Dennis, Sanger CA died in 1970 I believe. He had a wife and three children. For information on his family write to Mrs. Clarence Jones, 1616 10th St., Sanger, CA 93657.
I am sure there are many more details you will want to know and I will be happy to help. If you decide to come out for a visit, let us know. In any event, write to me and let me know the whereabouts of the other members of your family; also the whereabouts of John Rather and Inez Rather.
Leo Dennis
---
August 7, 1972
Dear Leo:
I was more than delighted to receive your reply of July 29th. I had no idea I would even be able to reach anyone. The information you gave me is most interesting and valuable. I don't suppose I will ever do anything with all this information, but I do seem to have been the recipient of most of the family information and old photographs.
My father, Golia Rather, graduated from Western Kentucky College in Bowling Green in 1931 and became superintendent of the Allen County School System. He received a Master's Degree from Peabody College in Nashville in 1949. From 1950 to 1954 he was a professor of geography at Western. From 1954 until his death in 1957 he was principal of a high shcool in Warren County, KY.
Inez Rather married Pelly Perry and moved to Bowling Green, where she still resides. John Rather died in Indianapolis in 1964. He had moved around so much and I had seen him so little that I'm not exactly sure what he did for a living. I remember seeing him in 1943, 1952 and 1957 only.
My mother, the former Amelia Odell Holland, is a retired school teacher and is living in Bowling Green. She remarried in 1960, marrying Guy Dalton, formerly of around Petroleum in Allen County. He had moved at an early age to Cleveland, had returned to Bowling Green around 1958. Guy Dalton died in 1968.
Golia Rather had three boys, Wally, Julius (me) and James. Wally Rather was born in 1932, graduated from Western in 1954 and is making a career in the Air Force. He is now a Major, stationed near Kansas City, MO. I was born in 1936, graduated from Western in 1958 and received my law degree from the University of KY in 1960. I as a law clerk on the Kentucky Court of Appeals, our state's highest court, for one year, and in 1961 was appointed Legal Assistant to Governor Bert Combs. I was re-appointed Legal Assistant to Governor Edward T. Breathitt in 1963, but in 1964 former Governor Combs and I opened a law office here in Lexington, KY. In 1967 Governor Combs was appointed a Federal Judge and I have since then practiced by myself. James Rather was born in 1938, graduated from Western in 1960 and received two Master's Degrees from Tulane University, in physics and business administration. He now works for IBM in New Orleans.
If at all possible I would like to visit you, your mother and aunt for a few days.
Sincerely yours, Julius Rather
---
January 4, 1977
Mrs. Florence Dennis
Westcliffe, CO
Dear Florence:
The family and I were happy to receive your Christmas letter.
We have not been on vacation this year. We did take Mom and fly out to Las Vegas in June to see Wally and his family before they were assigned to Hawaii; he is now a Lt. Colonel. They took Joe and Ann with them, but Bob stayed in Las Vegas where he is attending the university and playing football.
I ended my term of office as President of our Fayette County Bar Association in April. I was much surprised and deeply honored to have been named the outstanding attorney in Lexington for 1976. The 500 member Bar Association temporarily lost its mind, but it did make mother very proud.
Mary is now 11 and July 13 and both are getting as tall as their mother.
Give my regards to Elizabeth, Lori, Judi and Joni and ask them to keep in touch. We still remember with a great deal of pleasure our visit with them and Leo. It still pains me that I only had the one visit with Leo before he passed away. We hope all goes well with you.
Sincerely yours, Julius Rather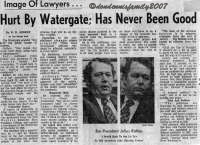 ---
And from D. Dwayne Barnett
February 22, 2008
An Email to Donald Dennis
I believe we are related, although I'd like to confirm that with you folks. My grandfather's name was Estel "Denny" Dennis, and I've always been told that Otis Lee Dennis and he were cousins. Are you related to Otis Lee Dennis? My grandfather talked of an uncle and his family (Otis Lee's family) that picked up from Kentucky and moved to Colorado; I believe he said Pueblo. I realize that Otis died during the war, but do you remember anyone ever making mention of Estel Dennis (or his family). My great-grandfather died before I was born and I can't remember his name right now, but my great-grandmother's name was Gerty Mae Dennis (I may not be spelling it quite right, but hopefully you'll get the jist).
Anyway, does your family tree make any attempt to trace the Dennis family members that remained in Kentucky? Would you be interested in knowing more about my family's lineage? What other information would you like to have/need? I can get whatever information you need from my Mom or my uncle.
Sincerely,
D. Dwayne Barnett
---
February 22, 2008
How interesting. Yes, we must be related. I presume you have seen our web site about Otis Dennis, and related pages of family history. We really don't have anything about the Kentucky brothers who stayed in that part of the country and would be interested in anything about them, to put on the site. I will happily credit the information to anyone that cares to contribute.
My husband, Don, was in Texas at a convention in about 1983, having lunch and a man named Eric Dennis, who was sitting with his son, saw his name tag. They talked and figured out that they were related through the Kentucky Dennis'. He thinks he remembers they were from Lubbock, but isn't positive.
We had been told that a Julius Rather, had done extensive research into that branch of the family, but I haven't been able to get ahold of him. He is from Louisville, KY I believe. His mother was a sister of the brothers who split up between KY and CO.
The Colorado branch ended up in Fowler, Colorado. John Dennis died there in the early 60's. I joined the family in 1961, so didn't have the opportunity to speak with him, and now all of the family is gone, except my husband, the last Dennis from this branch... (we have four children who technically would be the last, but they know nothing about the extended family unfortunately).
Thank you. Ann Dennis, wife of Don Dennis, son of Leo Dennis, son of John Dennis from Kentucky and then Colorado.
---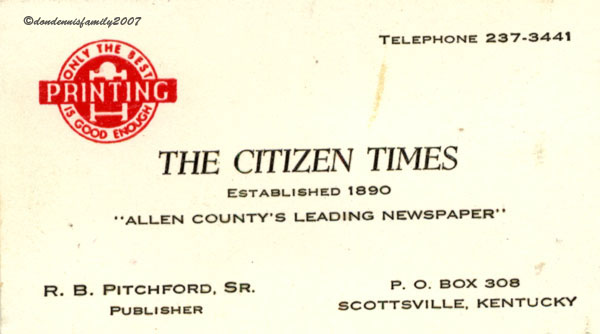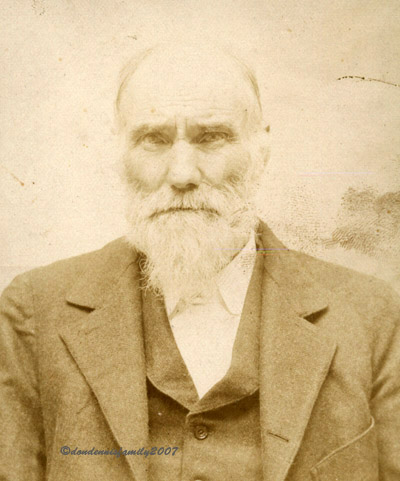 Booze Dennis, Kentucky
(From John Levi Dennis papers)



Put Website in Subject Line