No individual, facebook page, pinterest or any other group, nor website, blog, or any other entity
has permission to post any intellectual property from dondennisfamily.com.
Email us for inquiry regarding publishing our material.




Put Website in Subject Line
COPYRIGHTED AND CAN NOT BE COPIED WITHOUT PERMISSION!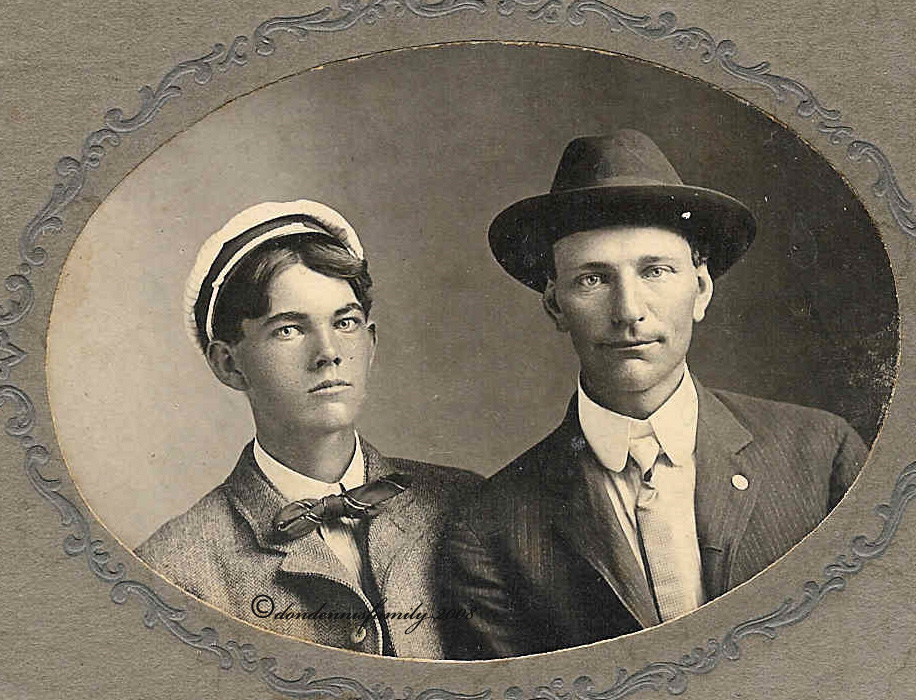 Left, John Levi Dennis b 2/27/1884 - d 12/19/1961 in Fowler, CO
Right: William A. Dennis b 1845 - d 2/28/1912
Levi H. Dennis...b 1815
Levi Dennis... b 1778
John Tennison... b 1750
Click to greatly enlarge these pictures


Leo with Boy Scouts


Elizabeth Dennis Hancock


Elizabeth, Mattie and Loraine Dennis

Elmer Hancock, Elizabeth Dennis

Mattie and John Dennis

Leo and Otis Dennis

Leo Dennis, center

Loraine Dennis

Leo Dennis

Otis Dennis and family
MATTIE DENNIS FAMILY TREE BOOK
More Pictures at Bottom of Page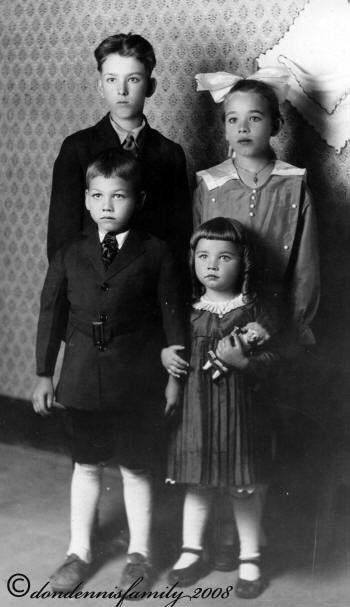 Back, Leo and Loraine Dennis
Front, Otis and Elizabeth Dennis

Laura Shores Jackson, John Levi Dennis's sister.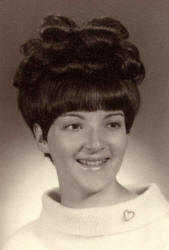 Karen Dennis, daughter of
Marvin Dennis in California


Scott, Marvin's son.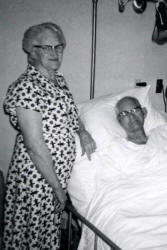 Clara Dennis and
brother-in-law John Dennis
The pages of the book below all enlarge
with a click for easier reading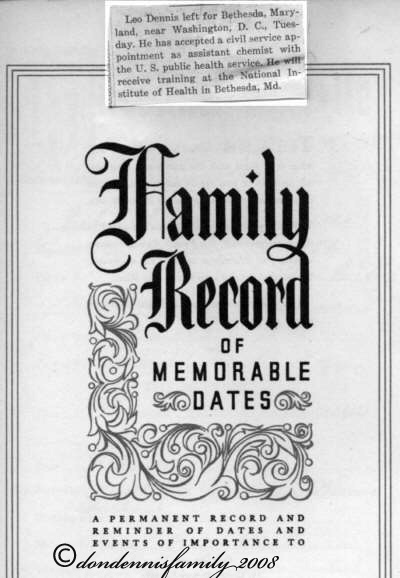 John Levi Dennis, born February 27, 1884 in
Scottsville (Allen County) KY.
Mattie Pearl Newman, born November 23, 1889 in
Scottsville (Allen Co) Ky.
Married at Mount Olive, TN, February 3, 1907. The
reception was at the groom's father's home, William
A. Dennis. Rev. Carter performed the marriage.
Attendants were the bride's sister Hattie Newman and
Charles Reynalds.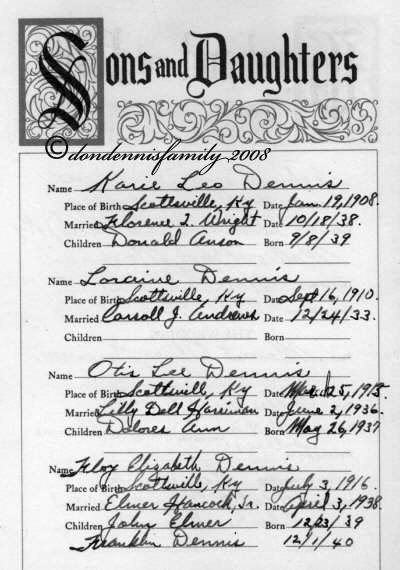 Children:
Karie Leo Dennis, born Scottsville, KY, 1-19-1908
Married Florence I. Wright on 10-18-1938
One Son, Donald Anson Dennis born 9-8-1939
Loraine Dennis, born Scottsville, KY, 9-16-1910
Married Carroll J. Andrews on 12-24-1933.
Otis Lee Dennis, born Scottsville, KY 3-25-1915
Married Lilly Dell Harriman on June 2, 1936
One Daughter, Dolores Ann, born 5-26-1937
Floy Elizabeth Dennis, born Scottsville, KY 7-3-1916
Married Elmer Hancock on 4-3-1938
Two Sons, John Elmer
Franklin Dennis born
Elmer died of an accidental gun shot in
Married John A. McCarthy on 12-17-1955
Three Daughters, Dorothy Loraine
Judith Maurene and Joan Corine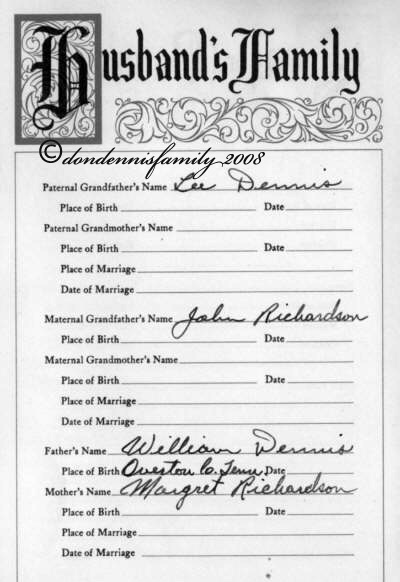 John Levi's Grandfather, Levi Dennis. Mattie's Grandfather, John Richardson. John's parents, William A. and Margaret Richardson Dennis, Overton County, Tennessee
Although it appears Mattie Dennis has written "Lee"
for the Paternal Grandfather's name, it was
Levi H. Dennis. See Levi H. Dennis, TN and KY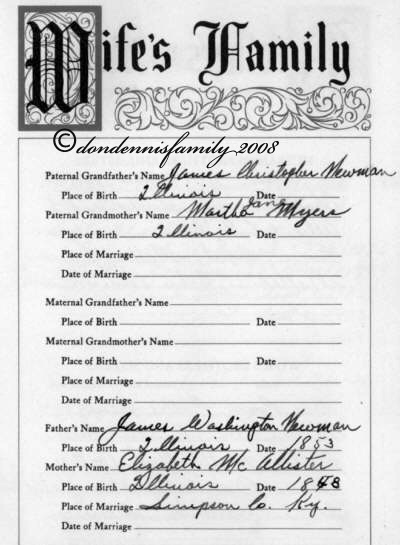 Mattie's Paternal Grandparents, James Christopher Newman, Illinois and Martha Jane Myers, Illinois. Her father's name was James Washington Newman, born in IL, 1853; mother's name was Elizabeth McAllister, born in IL, 1848. Married in Simpson County, KY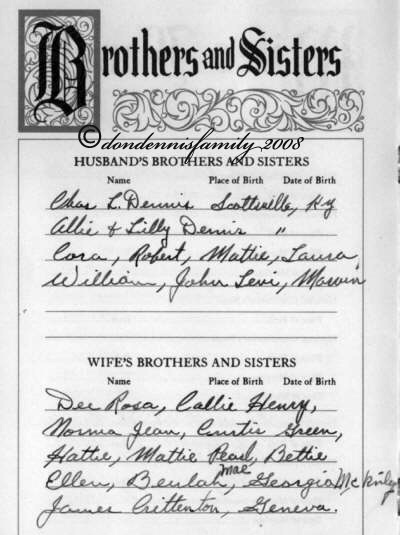 John Levi's Siblings: Charles L. Dennis and Allie & Lilly Dennis, Scottsville, KY; Cora, Robert, Mattie, Laura, William, John Levi and Marvin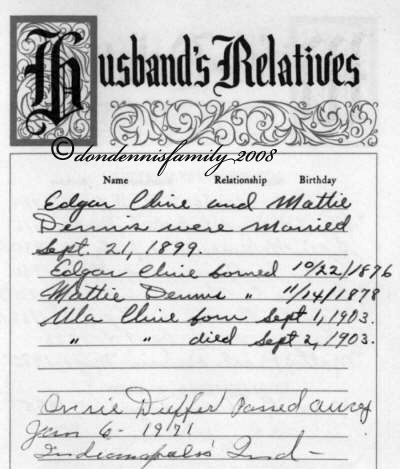 John Levi's relatives: Edgar Cline married sister Mattie Dennis on 9-21-1899. Edgar born 10-22-1876, Mattie born 11-13-1878. Ula Cline b 9-1-1903, d 9-2-1903
(Annie)? Duffer passed away 1-6-1971 in Indianapolis, IN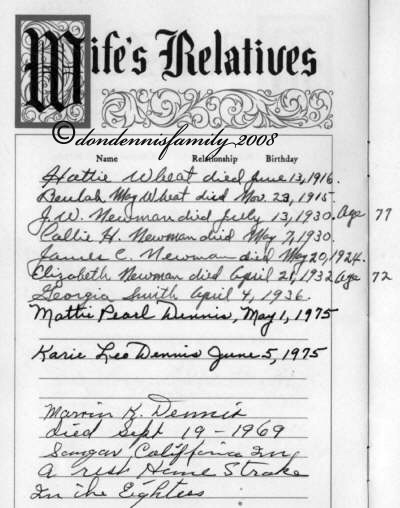 Hattie Wheat died 6-12-1916.
Beulah Mag Wheat died 11-23-1915.
J.W. Newman died 7-13-1930 at 77 years old.
Callie H. Newman died 5-7-1930.
James C. Newman died 5-20-1924.
Elizabeth Newman died 4-21-1932, age 72.
Georgia Smith 4-4-1946.
Mattie Pearl Newman Dennis died 5-1-1975.
Karie Leo Dennis died 6-5-1975.
Marvin K. Dennis died 9-19-1969, Sangar, CA in
a rest home - Stroke. In the 80's.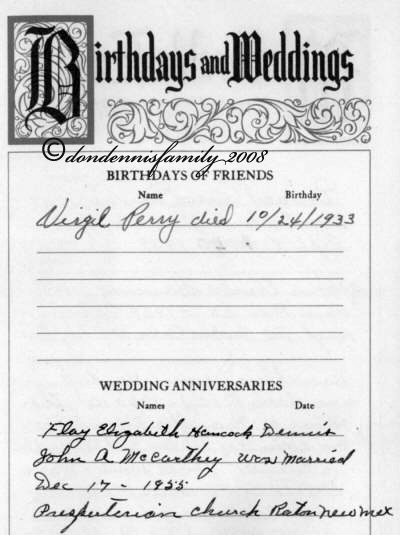 Virgil Perry died 10-24-1933.
Floy Elizabeth Hancock Dennis and
John A. McCarthy married 12-17-1955,
Presbyterian Church, Raton, NM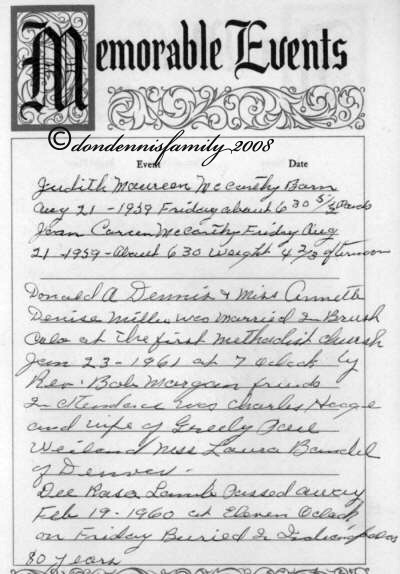 Donald A. Dennis and Miss Annette Denise Miller married in Brush, CO at First Methodist Church 1-23-1961, at 7pm by Rev Bob Morgan. Friends were Charles Hogue and wife Pauline of Greeley; Paul Weiland and Miss Laura Bandel of Denver.
Dee Rosa Lamb passed away 2-19-1960 at 11:00 on Friday. Buried at Indianapolis - 80 years.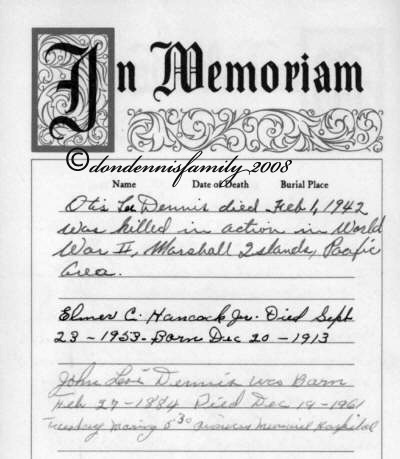 Otis Lee Dennis died 2-1-1942, killed in action in WWII, Marshall Islands, Pacific Area.
Elmer C. Hancock Jr. died 9-23-1953, born 12-20-1913.
John Levi Dennis was born 2-27-1884, died 12-19-1961, Tuesday morning 5:30, Pioneer Memorial Hospital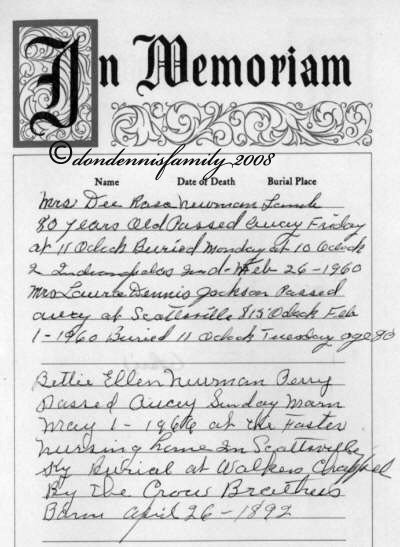 Mrs. Dee Rosa Newman Lamb 80 years old, passed away Friday at ll:00, buried Monday at 10:00 in Indianapolis, IN, 2-26-1960.
Mrs. Laura Dennis Jackson passed away at Scottsville, 8:15
2-1-1960, buried 11:00 Tuesday, Age 80.
Bettie Ellen Newman Perry passed away Sunday morning 5-1-1966 at the Foster Nursing Home in Scottsville KY. Burial at Walker's Chapel by the Crow Brothers. Born 4-26-1892.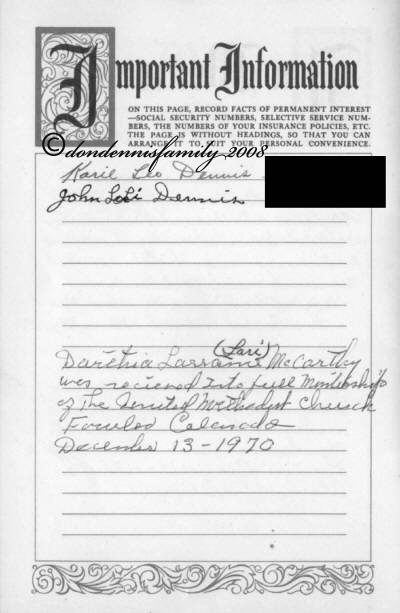 Dorthia Loraine (Lori) McCarthy was received into full membership of the United Methodist Church, Fowler, CO on 12-13-1970.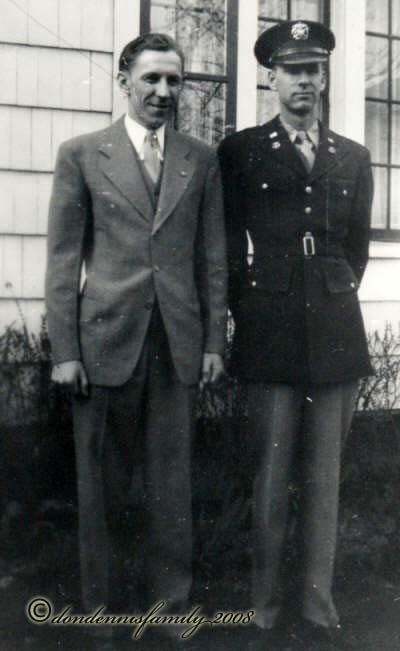 Leo Dennis in WWII, right. Herbert Hitzke, Left.
Leo Dennis and Florence Wright about the time they were married in 1938.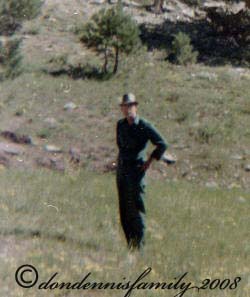 Leo Dennis
Leo Dennis - Favorite Past time - Fishing!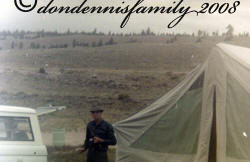 1945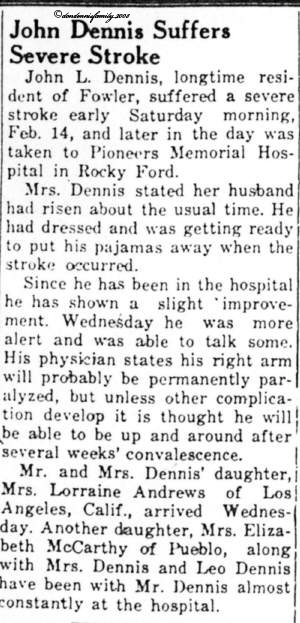 1959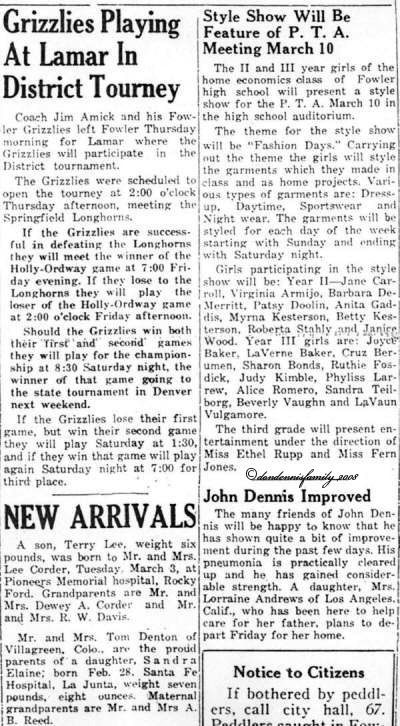 1959


1948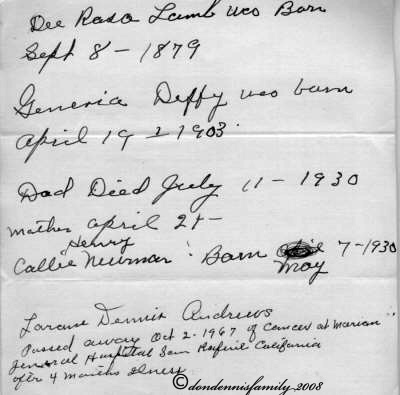 Dee Rosa Lamb was born 9-8-1879.
Genevia Duffy was born 4-19-1903.
Dad died 7-11-1930, Mother 4-21.
Callie Newman born 5-7-1930
Loraine Dennis Andrews passed away 10-2-1967 of cancer at Marian General Hospital, San Rafael, CA, after 4 months illness.
Click here for: Mattie Newman Dennis 6 Pages from her Bible



Put Website in Subject Line